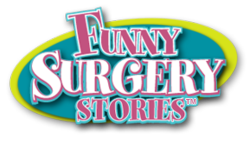 FunnySurgeryStories.com has the potential to become an ever-expanding niche.
Birmingham, AL (PRWEB) June 01, 2011
The fledgling website, http://www.funnysurgerystories.com is going viral (pun intended) as hospital staff, surgeons and patients contribute their own anonymous true tales of life and laughs in an area once considered laugh-less.
Now add to the mix a couple of New York Times Best Selling authors who specialize in the weirdest, dumbest and goofiest aspect of countless other industries and occupations and you have the potential for great humor.
Daniel Butler and Leland Gregory, co-authors of the New York Times Bestseller, "America's Dumbest Criminals," have joined the funnysurgerystories.com team to help with the project focused on humorous operating room stories.
"Surgeons and OR staff have a high stakes, high stress job dealing with 'clients' who don't always 'get it' and are often chemically impaired. This is a recipe for comedy. What can I say, I was raised on 'Dr. Kildare', came of age on 'M*A*S*H' and raised three boys on 'Scrubs'," Butler noted.
Gregory, who Katie Couric called, "The Chronicler of Stupid America," is a former writer for Saturday Night Live and wrote the NY Times Bestseller, "Stupid American History." He has also penned 22 books in the true, weird and goofy genre including the national bestsellers, "What's The Number for 911," and, "The Stupid Crook Book". Gregory claims, "The true stories of surgeons and scrub nurses are much funnier than anything Hollywood has ever come up with."
The stories being submitted on the website are written, animated and videoed by actual operating room professionals. All stories are reviewed and HIPAA approved before they're posted. There's even an original surgery soap-opera podcast called, "As the Scalpel Slices". Just like "America's Dumbest Criminals" which spawned 6 books and 106 half hours of internationally syndicated television programs, funnysurgerystories.com has the potential to become an ever-expanding niche.
For more information, please visit http://www.funnysurgerystories.com.
###