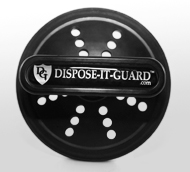 Elk Grove Village, IL (PRWEB) June 01, 2011
When re-modeling a kitchen, the easiest way to ensure that every piece is properly installed, every tile is aligned correctly, and every appliance is right for the job, is to leave it to the professionals. But there's one thing the pros typically overlook, and it's one item that can not only prevent injuries, but potentially save jewelry or small items, reduce garbage disposal noise and smell, and keep a disposal working properly. In fact, no installation is needed for the new [DISPOSE-IT-GUARD so any homeowner can take pride in making their garbage disposal run safer and better.
The risks are endless – a wedding ring slips off while washing dishes, a spoon get destroyed while pushing food remains into the garbage disposal, a child sticks their hand inside and is seriously injured. All of these scenarios can easily be avoided with the new DISPOSE-IT-GUARD. DISPOSE-IT-GUARD® by Disposal Guard Inc. is a heavy duty stopper/strainer that is used in place of a garbage disposal stopper. But it's more than just a stopper – DISPOSE-IT-GUARD is a stopper, strainer, safety poker and scraper all in one. A simple twist of the uniquely designed T-handle opens or closes the strainer, while the plunger is designed to avoid all contact with the garbage disposal blades even while it's running. With DISPOSE-IT-GUARD, kitchen renovators can have peace of mind knowing that they have contributed to the safety of their new appliance.
DISPOSE-IT-GUARD is 100% made in America and after two years of product testing, Disposal Guard Inc. and T.J. Dombrowski himself proudly and confidently stand behind their quality product. DISPOSE-IT-GUARD is available to purchase on DisposalGuard.com, Amazon.com and select home and hardware stores nationwide.
MSRP $16.95
About Disposal Guard Inc:
Safety & Convenience Made Simple®. Disposal Guard Inc. is based in Elk Grove Village, IL. The DISPOSE-IT-GUARD all-in-one sink stopper, strainer, safety poker and the scraper is 100% manufactured in the US. For more information please visit http://www.DisposalGuard.com.
###