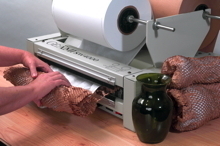 Raleigh-Durham, NC (PRWEB) June 02, 2011
Companies that ship small parcels using protective packaging will have the opportunity to see an innovative, eco friendly Kraft paper wrapping and cushioning material that replaces plastic materials such as bubble packaging at the Internet Retailers Conference and Exhibition to be held at the San Diego Convention Center on June 14 -17.
Geami, a leading supplier of Kraft paper protective packaging, will be hosting a hands-on demonstration of their protective paper and cushioning wrap packaging system located at booth #1836 of the world's largest e-commerce event.
Attendees will have the opportunity to see first hand how Geami's versatile Kraft paper protective packaging can be used to wrap and protect a wide variety of products such as tableware, glassware, food, health, beauty and cosmetic products. On exhibit will be eco friendly packaging solutions that are ideal for both Lite and Medium-High Volume Shippers. While attendees will discover how versatile and easy Geami's Kraft paper wrapping and cushioning materials are to use, the opportunities for increased throughput in processing and packing orders is the linchpin of the company's protective packaging system, says Lynn Moe, with Geami (http://www.geami.com).
Geami's protective packaging system features an auto expander, which produces the company's Kraft paper cushioning material on demand while packers wrap. This has been shown to be significantly faster than manually wrapping from rolls of bubble and foam wraps, making this type of packaging system a worthy consideration as the industry pushes harder for same day shipping of internet orders.
Attendees of the Internet Retailers Conference and Exhibition are invited to visit booth #1836 between June 14th and June 17th to see Geami's Kraft paper protective packaging systems in action.
About Geami:
Geami produces sustainable packaging supplies that are used by shippers of all sizes including Fortune 500 companies and Top 100 Catalogers. The company has been in business for over 15 years offering the most eco friendly replacement for plastic protective packaging available on the market. Today, businesses ship over 4 million small parcels annually using GreenWrap Kraft paper cushioning materials to protect their products during shipping and handling. Learn more by visiting http://www.geami.com/greenwrap.html.
###