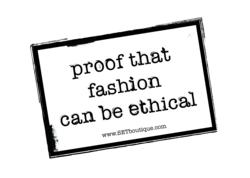 I am so pleased with the positive feedback I have received on this concept. People find it refreshing to shop at a retailer that says No to exploitation
San Francisco, CA (PRWEB) June 03, 2011
One year ago Lindsay Sullivan sent an email to family and friends announcing that supporting ethical trade would be stylish and simple thanks to a new website called SET Boutique (Support Ethical Trade). A year later Sullivan can proudly boast that this alternative shopping site is "proof that fashion can be ethical", adding that "I am so pleased with the positive feedback I have received on this concept. People find it refreshing to shop at a retailer that says no to exploitation".
In 365 days SET Boutique has achieved meaningful milestones. Here is a timeline of the past and a sneak peak towards the future:
-June 3rd, 2010: SET Boutique Website Launch
-November 4th, 2010: The Give&Get Program is promoted as a new way to donate while shopping. Add a donation as small as $10 to your purchase and receive free gift wrapping and 20% off your next purchase.
-November 15th, 2010: Sullivan visits Nepal to oversee SET Boutique's first private label collection of fair trade sweaters, and meet new ethical suppliers.
-February 3rd, 2011: During a visit to Rwanda new relationships develop with small to mid-size fair trade cooperatives.
-February 26th 2011: SET Boutique's first fashion show featuring fair trade sweaters, dresses, bags, and jewelry
-April 8th 2011: The Give&Get program is redesigned to make donating easier than ever. Guilt-Free shopping is redefined when SET Boutique makes a $5.00 donation every time a customer spends $20.00 or more.
-April 25th 2011: SET Boutique becomes a Certified B Corporation
-July 9th 2011: SET Boutique's second fashion show featuring new fair trade fashion
SET Boutique would like to thank its fans, customers, and supporters for a successful first year. Please join SET Boutique's mailing list to stay updated on upcoming events and news.
# # #