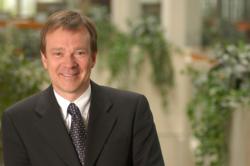 The PT6 training solution will help schools improve student comprehension and proficiency of tasks.
Ottawa, Canada (PRWEB) June 01, 2011
NGRAIN®, a leading provider of interactive 3D equipment simulation solutions that maximize the effectiveness of training programs and maintenance support systems, today announced that the PT6 engine training solution developed by the British Columbia Institute of Technology (BCIT) using NGRAIN Producer® has been provided to eleven other Canadian post-secondary education institutions. Delivering parts familiarization, theory of operation, and maintenance procedures for the Pratt and Whitney PT6A engine in a highly interactive and rich media environment, the training solution will help students in aerospace and aviation programs acquire knowledge in less time and with increased skill.
"We are thrilled that students and instructors across Canada will be able to use interactive 3D simulations from NGRAIN to enhance learning for aerospace technical trades," said Paul Lindahl, CEO, NGRAIN. "The PT6 training solution, which is already in use at BCIT, will help schools improve student comprehension and proficiency of tasks by providing instructors with a way to visually communicate complex information about the engine operations and subsystems."
Common in the aerospace industry, there are more than 6,500 operators around the world using various PT6 engine variants making it a standard engine used in schools to train students on maintenance procedures. BCIT used NGRAIN Producer® software donated by NGRAIN to incorporate 3D simulations of the engine into its aerospace courses as part of the school's CUBE initiative. The resulting virtual PT6 engine training solution enriches the curriculum, allowing students to learn and practice procedures, including assembly and disassembly, damage inspection, hot section inspection, and part replacement.
"NGRAIN has given our instructors a way to combine hands-on and theoretical learning, helping students more proficiently apply their knowledge to the maintenance of a real engine," said Brian Hosier, Director, Media & Technology Services, Learning and Teaching Centre, BCIT. "BCIT is looking forward to seeing these benefits shared across Canada as we advance maintenance training."
NGRAIN worked with the National Training Association, a group of representatives for college training organizations approved by Transport Canada and accredited by the Canadian Council for Aviation and Aerospace, to identify the post-secondary programs that would benefit most from the PT6 training solution. These include aerospace engineering and maintenance programs at: New Brunswick Community College, Algonquin College, Red River College, College of the North Atlantic, Collège Édouard-Montpetit- École Nationale d'Aérotechnique, Confederation College, Centennial College, Southern Alberta Institute of Technology, Northern Alberta Institute of Technology, Northern Lights College, and Holland College.
"Students today are tech-savvy and accustomed to obtaining information online and in digital formats," said Bruce Dwyer, Administrator, Aviation Studies, Algonquin College. "By incorporating NGRAIN's interactive 3D training into the classroom, our students will have more knowledge about the PT6 engine prior to the hands-on training component of the program. This will reduce wear-and-tear on the equipment and give students the confidence they need to be successful when performing tasks."
For those attending CANSEC in Ottawa, please visit us at booth 3021 in the General Dynamics Hall. If you would like more information about NGRAIN, visit http://www.ngrain.com to download the Future of Maintenance Training Journal.
About NGRAIN
Sixty-five cents of every dollar spent on a piece of equipment goes towards sustainment. NGRAIN enables organizations to dramatically reduce these costs by maximizing the effectiveness of equipment training programs and maintenance support systems with interactive 3D equipment simulations. With NGRAIN's breakthrough 3D simulation capabilities, customers have been able to accelerate the communication of knowledge by 60 percent, and improve operational efficiency by 30 percent.
NGRAIN makes 3D attainable. With NGRAIN, Subject Matter Experts can easily produce, integrate, and distribute 3D simulations, delivering unparalleled real-time 3D interactivity over the web to everyday desktop, laptop, and tablet computers. NGRAIN makes it possible for organizations to transform how they share information, making complex ideas simpler and more accessible to all.
NGRAIN delivers solutions to a host of industries worldwide, including Aerospace & Defense, Energy, and Technology. With its proven, award-winning solutions, NGRAIN has proved to be one of the most trusted names in the realm of 3D technology. NGRAIN's customer base includes all branches of the United States and Canadian militaries, Lockheed Martin, Standard Aero, CAE and other industry leaders. http://www.ngrain.com
For additional information, please contact:
Cerys Goodall, Public Relations Manager, NGRAIN
(416) 407-2978
cgoodall(at)ngrain(dot)com
###