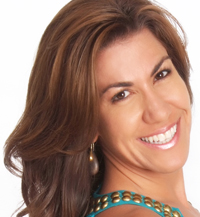 "My Speak to Sell bootcamp programs have been life-changing for so many of my clients," Sasevich says, "and I wanted to find a way to make this one more accessible to the people who really need it."
San Diego, CA (PRWEB) June 01, 2011
As travel prices increase and sales become tougher to close, many entrepreneurs are feeling the crunch of today's economic situation. According to the Queen of Sales Conversion Lisa Sasevich, these entrepreneurs are most in need of events like her "Invisible Close Speak to Sell Bootcamp." That's why, for the first time ever, Sasevich is offering a simulcast option for her Speak to Sell Bootcamp event on June 9-11.
The simulcast option allows attendees to save on travel costs, time away from work, and the hassle associated with driving or flying in, checking into a hotel and being away from home for 3 days, on June 9-11.
"My Speak to Sell bootcamp programs have been life-changing for so many of my clients," Sasevich says, "and I wanted to find a way to make this one more accessible to the people who really need it."
Simulcast attendees will be able to ask questions, interact with live attendees and watch the live web video or recordings for up to 7 days.
Sasevich's latest program, "The Invisible Close Speak-to-Sell SIMULCAST Bootcamp: Dance into the Spotlight with a Talk that you Love, Offers that Sell and the Confidence that comes with Being Ready!" covers:

How to craft irresistible offers that sell
How to leverage time and effort beyond 1:1 sales
Insider strategies to keeping the sales an entrepreneur makes
How to easily turn one gig into many
Simple little behind-the-scenes tips that will save time and energy so entrepreneurs can learn the easy way
The exact language and structure Sasevich uses to convert 100% of exactly the right paying clients, on the spot
And more
Sasevich believes that the most natural way to make a great sale is for entrepreneurs to be themselves, present an offer that's irresistible to the right people, and to have fun while selling. It's her passion to help as many business owners as possible to do that, and that's why she has opened up this simulcast option for the first time ever.
"The Invisible Close Speak-to-Sell SIMULCAST Bootcamp" is for heart-centered speakers, trainers, coaches, consultants and other individuals using a presentation-style sales approach, who can't make the live event but are dedicated to crafting an authentic selling style that nets results for them and their clients.
For more information about "The Invisible Close Speak to Sell Bootcamp SIMULCAST" click here: http://www.speaktosellbootcamp.com
###