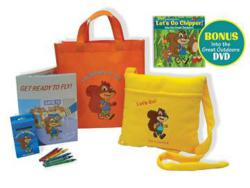 Chipper helps get kids ready to go and a prepared child is a happy traveler which is good for everyone.
Marin, CA (PRWEB) June 01, 2011
Raise your hand if you're worried about being "that" parent with the crying baby, or toddler whom can't keep their feet at their seat during your next flight? For one Bay Area mother, the idea of helping prepare kids before the bags are even packed came to her during a 14-plus hour flight that began with smirks and glares as she sat down with her then almost one year old for an overnight journey to Europe.
"I almost got off the flight as I heard grumbling from a row of young men making their way back to London after what seemed to be a very raucous US visit," says creator of the Let's Go Chipper Get Ready to Fly kit and supporting app. I had planned and, having worked with young children, I wasn't worried until I felt all eyes on me even as the cabin lights dimmed for the night flight."
It was that flight which inspired Ms. Rach-Wilson to take her "get ready" pack to the next level. A writer and consumer marketer, Ms. Rach-Wilson took to designing a pillow backpack that would be free of plastics and hardware and could fit comfortably on a young child's back. She added her signature character-building ambassador Chipper the squirrel on a front pocket just big enough for a book and crayons that would help a child feel independent while also offering something entertaining.
"Too often we pack a rolling suitcase and overloaded backpack for our children only to end up carrying it ourselves," says Ms. Rach-Wilson. This is lightweight and yellow so you can see your child, they feel like an important part of the plan, and they have a travel-size pillow to snuggle up with when it's time to rest on the flight or in the car – we even have teachers asking for the pillow backpacks for their preschool classes."
The Get Ready to Fly Kit includes a story & activity book which introduces young and first-time fliers to the wonders of flying in an airplane. From what to pack, the check-in process including security, to flying and being mindful of the people around you, Chipper playfully teaches children that they are a part of a bigger group; one that extends beyond their family when they are in an airplane. Chipper learns to follow rules, including waiting patiently and the exciting journey his suitcase gets to go on. Tips for parents to consider when preparing for a flight include:
When to fly – midweek and Saturdays are the most economical days and are generally lighter travel days
Photo I.D. – A birth certificate, photo of child with name and a family picture in the event your child is lost or the request is made at the airport – you are ready
Snacks and Entertainment – Once at the gate, look out the window and talk about the flight but have books, coloring materials, and foods that will comfort your child to something extra special as a reward for being a good traveler. Lollipops for young children help with the landing. Chipper calls them "pressure pops."
The book also includes a set of crayons; all of which nestle neatly into the front pocket which is packaged in a reusable tote to help reduce packaging waste.
Created by IAG Media, Inc., developers of conscientious media for today's mobile family, the kit follows the Company's 'less packaging, more fun' philosophy. Each product is packaged using minimal and reusable materials whenever possible. The Get Ready to Fly kit is available at http://www.getreadytofly.com or http://www.letsgochipper.com and includes a free eco-educational DVD featuring Chipper's adventures into the great outdoors.
In March, the Company launched the Let's Fly app inspired by the book and including animation and coloring activities. Additionally, children can play Chipper's Matching game on iTunes featuring the Let's Fly theme in an app memory game which includes a customized feature allowing users to upload their own pictures.
IAG Media, Inc. is an award-winning Bay Area company delivering content and community-based programs that playfully teach respect for self, family and contribution to community while inspiring more meaningful connections between parents and children. Research shows children as young as 18 months have the capacity to understand and show empathy and ages two to six is a critical phase to develop these characteristics that can help a child grow on a more positive social and emotional path in life.
To learn more, please visit http://www.getreadytofly.com or call 415-927-2398.
###