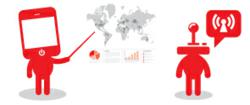 Everyone knows that there's enormous potential in the mobile market, but many are confused about which way to go
London, UK (PRWEB UK) 2 June 2011
There's no doubt that, over the last few months, mobile has become an increasingly significant channel which deserves serious consideration when it comes to business. Red Ant Mobile has a reputation for developing market-leading, award-winning mobile sites and apps, and now its experts have shared their experience and knowledge in 'Going Mobile – a how-to guide', a unique new toolkit for businesses which will enable them to plan and deliver a comprehensive mobile strategy. It's designed to help business leaders map and navigate the mobile landscape – from iPhones and iPads to Android, BlackBerry and beyond.
Mobile is big business. Approximately 300 million Android, iPhone and BlackBerry devices were sold worldwide last year, and by the end of 2010, and around 23 million people in the UK alone were using their mobiles to actively research products, make price comparisons, and purchase goods and services.
But the landscape is constantly changing, and it's easy for businesses to lose their way when it comes to developing a strategy for mobile – if they even know where to start.
'Going Mobile', which is available free of charge from http://www.redant.com, gives unique insight, expert opinion and insider knowledge on a range of vital subjects, including:

Recognising good strategy vs. bad
Exposing mobile myths
How a mobile product is defined, designed, and delivered
True multichannel strategy and enterprise-level integration
Mobile web vs. apps
Choosing a platform – iPhone, Android, BlackBerry (or something else)?
and much more, including the most important rules for success in the mobile marketplace.
Dan Hartveld, Red Ant's Director of Mobile, says: 'Mobile has revolutionised the way we live our lives – we've got the world at our fingertips, and we expect our favourite brands, services and activities to be available to us whenever and wherever we choose. Everyone knows that there's enormous potential in this market but many are confused about which way to go, and we believe that sharing our knowledge and experience of mobile will certainly help to realise it – for businesses and users alike.'
Businesses that have serious plans for the future and are getting ready to go mobile, or those that have already entered the space but aren't seeing the results they had hoped for, can download it now, free of charge.
The guide will also be available as a mobile-friendly audiobook and podcast series over the next month.
For more information, go to http://www.redant.com.
About Red Ant
Established in 1999 and with an in-house team of full-time digital experts, Red Ant is a digital strategy agency delivering return on investment solutions to meet business objectives and campaign aims. Using a four-stage approach – planning, creating, actualising and evaluating – Red Ant develops digital strategies which enable clients to listen to customers, talk to potential clients, engage with relevant audiences and increase revenue opportunities at every stage.
Red Ant's Mobile team enable businesses to take full advantage of the rapidly evolving mobile market. It provides a full range of services from expert advice on mobile strategy to the development and delivery of custom mobile applications.
Red Ant Mobile apps cover everything from small promotional tools to fully-fledged retail and social experiences. They also licence their own mobile commerce platform, specifically designed to allow existing retailers to offer a mobile storefront with minimal effort.
###