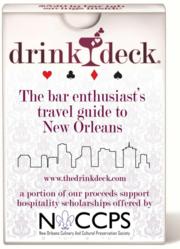 Combining Zagat, Lonely Planet and Groupon type concepts into a travel game for bar enthusiasts and foodies.
Chicago, IL (PRWEB) June 02, 2011
Savvy travelers do research to find the best spots to visit before departing: checking Trip Advisor, reading blogs, asking friends for recommendations and purchasing travel guides. It's a lot of work and rarely results in saving money!
Enter, Drink Deck for Chicago, Portland and, the newest addition, New Orleans! With "bar enthusiasts" and "foodies" in mind Drink Deck has combined the traditional travel guide and entertainment book concepts into a handy deck of playing cards, or location based iPhone app, featuring a curated list of 52 great bar/restaurant concepts; each offering up to 30% off with no expiration.
Will Glass, Founder of Drink Deck LLC says "We started in Chicago, a historically significant bar town from the bootlegging prohibition days. Portland, Oregon was next because it's known as 'Beervana', offering more micro-brew beer than any other US destination. Next we moved on to New Orleans, a town that boasts the invention of more cocktails then any other US city. Now work has begun on a very popular tourist destination known for partying...Miami!"
It's a great way to be an urban explorer, either as a local or as a visitor. There are cards in each destination's Drink Deck for every mood. Sometimes cheap beer and eats at a dive bar are in order. Yet other times it's more about pairing food with drink, or listening to live music. Create a food, drink & entertainment bar crawl by picking out cards by neighborhood, bar genre or just pick a card, any card, and hit the town spontaneously.
Drink Deck will be hosting the Drink Deck New Orleans Launch Party to celebrate the new addition on Monday, June 27th at d.b.a.. RSVP required.
###