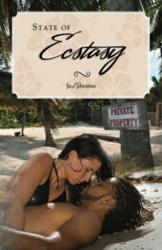 Fresh, Steamy and Provocative
West Haven, CT (PRWEB) June 03, 2011
In this her first romance novel, Ju Ephraime finds passion on the lush island of Martinique in this steamy romance. Twenty-six year-old Daphne Cohen's life is closed off, hiding behind an introverted personality to keep from expressing her true self and exploring the depths of what she truly desires. With very few friends and having only slept with three men in her life, she believes man number three is the one...until she finds out he's been sleeping around. Fleeing to Martinique to do some soul searching about her past, she meets her future: Wolfe LaCasse, a devastatingly handsome and sensuous Creole. He takes her on a passionate journey whose fire burns too hot for Daphne and she flees the island before getting burned. The problem is, she can't forget the state of ecstasy she experienced in his arms. Can she risk everything and, for the first time in her life, follow her heart and return to the island? In 'State of Ecstasy' (ISBN 978-0972878913), Ju Ephraime's Daphne is in the driver's seat and in full control to make the decisions that will change her forever. Daphne's developed sexuality and power bridge a gap between the classic and the contemporary with subtle nuances, sparkling insights, and a provocative, sensuous narrative style.
Reminiscent of the works of Lisa Kleypas and Stephanie Laurens, Ju Ephraime's rich emotional landscape delivers an achingly accessible complexity that makes State of Ecstasy steamy, provocative, and fresh, and its author a forceful new voice who brings an entirely new level of heat.
State of Ecstasy is available for sale online at, http://www.amazon.com and other channels, as well as, at envisionschoolpublishing.com
About the Author:
Writing under a pen name, Ju Ephraime is an administrator of a career school in Connecticut, her love affair with writing began at an early age. Though she took a break from writing for a number of years, as she focused on her education, she has returned to her passion with a series of recent books, but this is her first romance novel.
Ephraime has earned several degrees, including two master's degrees and a doctorate in higher education administration. She is very active in her community helping those in need, and is also the president of a non-profit organization that provides professional clothing to individuals for job interviews.
MEDIA CONTACT
Ju Ephraime
Email: editor(at)envisionschoolpublishing.com
Phone: (203) 934-6882
Web: http://www.envisionschoolpublishing.com
REVIEW COPIES AND INTERVIEWS AVAILABLE
###