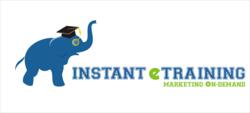 "Link building is constantly evolving especially with all the recent Google updates. This makes it critical for SEO professionals to spend their time wisely on link building tactics that really work" Eric Enge, co-founder, Instant E-Training
Chicago, IL (PRWEB) June 02, 2011
Instant E-Training, a leading Chicago based internet marketing training startup, announced today that co-founders Eric Enge and Bob Tripathi will be speaking at Search Marketing Expo (SMX) Advanced conference in Seattle on June 7, 2011 on separate panels talking about advanced Link Building for SEO and Pay-Per-Click (PPC) panels.
Come June and some of the smartest search engine marketers gather in Seattle in what has come to be known as a premiere two day conference for advanced search marketers. Eric Enge, a leading authority on link building and co-author of "The Art of SEO", will be looking at some of the trends and recent changes by Google and how it is affecting link building for SEO. "Link building, a huge part of SEO, is constantly evolving especially with all the recent Google updates. This makes it critical for SEO professionals to spend their time wisely on link building tactics that really work" says Eric Enge, co-founder of Instant E-Training. "I am looking forward to this panel because we all plan to hit some actionable link building tactics that everyone can use" adds Eric.
Bob Tripathi will also present his findings as well as make recommendations to a roomful of paid search marketers on the best way to manage enterprise wide paid search campaigns. "Paid Search is without a doubt one of the highest revenue generating tactics but still a long way to go for organizations in terms of getting smarter and efficient with their paid search investment. My presentation will revolve around an often debated topic of is paid search better managed by campaign managers or a bid management platform on auto-pilot." Both of these panels are a must-attend for search marketers looking to advance their search engine marketing skills.
Here is the SMX Advanced panel schedule:
Day 1, June 7, 2011 from 1:45 pm – 3 pm:
Human Vs. Machine: What's The Best Way to Manage Paid Search?
Moderator: Matt Van Wagner, President, Find Me Faster
Q&A Moderator: Allison Hartsoe, VP Analytics, Semphonic
Speakers:
Benny Blum, Director, Strategy & Analytics, esearchvision
Eric Jones, VP, Digital Marketing, R2integrated
Kevin Lee, CEO, Didit
Bob Tripathi, Founder & Chief Marketer, Instant E-Training
Day 1, June 7, 2011 from 3:30 pm – 4:45 pm:
Tough Love: Link Building For The Real World
Moderator: Elisabeth Osmeloski, Managing Editor, Search Engine Land
Q&A Moderator: Bob Tripathi, Founder & Chief Marketer, Instant E-Training, Inc.
Speakers:
Justin Briggs, SEO Consultant, Distilled
Eric Enge, President, Stone Temple Consulting, Co-Founder Instant E-Training
Ross Hudgens, SEO Manager, Full Beaker, Inc.
Roger Montti, Owner, MartiniBuster
Conrad Saam, Director of Marketing, Avvo
ABOUT INSTANT E-TRAINING:
Founded in 2010, Instant E-Training, Inc. is an internet marketing training company that offers online and in-person training in various fields of internet marketing including search engine optimization training (SEO Training), Paid Search (Pay per Click), Social Media Marketing training, Website Usability and more. Instant E-Training offers an online library of training videos, interactive workshop series' and consulting services. More information can be found at http://www.instantetraining.com
###