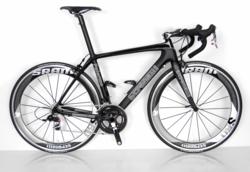 We are winning local races and the pro riders are excited to be riding our bikes. That was our main goal.
Pompano Beach, FL (PRWEB) June 01, 2011
Now the avid cyclist finds himself with an opportunity to deliver a high quality, ultra-light carbon bicycle for half the cost. Tom Steinbacher's new brand 'Stradalli' provides cyclists with an affordable carbon bicycles that's lower in cost but certainly not lower in quality.
Entrepreneur, visionary and bicycle enthusiast Tom Steinbacher is a local racer in Florida. His passion grew from the initial start of trying to stay fit and healthy to participating in team racing and volunteering for charitable events. Tom knew the sport was growing, but as a businessman was disappointed in the high cost of most race quality bicycles. It was a deterrent for the 'everyday' man to enjoy the sport. Tom understood this better than most men. Tom was born and raised in Germany, growing up with the international bicycle racing community constantly in the media, but when he arrived in the USA at twenty years old, he had $180 in his pocket and did not speak any English. He was realistic enough to know that finding food and shelter took precedent over costly recreational activities. It would be quite a few years and founding and operating a successful business before he could venture into the world of bicycle racing.
Tom's business was predicated on high quality, low cost motorcycle parts. He was determined to replicate that with high end carbon bicycles. He dedicated himself to build a reasonably priced quality racing bicycle that would meet the standards of the professional racers. He knew the bicycling enthusiast would follow. Through Stradalli, after months of research and testing of products, a durable, ultra-light carbon bicycle integrated with the number one rated components was brought to market. These bicycle frames are built with the same precision of those used by the unprecedented pro Tour De France teams. Its selling price is approximately less than half of competitor's retail price.
To date, Stradalli has reached huge milestones in building their reputation. Professionals have ridden the bicycles and have been so impressed a few have asked to be sponsored by the company. That rarely happens. Pro-cyclist Grant Potter (2010 World Cup Champion & 2009 US National Champion) recently announced he would be racing Stradalli's Palermo bicycle for the 2011 International racing season. These pro racers appreciate that Stradalli is allowing more of the public to participate in the sport as the cost to own a quality bicycle becomes affordable. When asked what type of hype would generate from a 2011 win, Tom commented "A win would be great because it adds that final element, but we already can see that the speed and durability of the product is meeting our high expectations. We are winning local races and the pro riders are excited to be riding our bikes. That was our main goal." There is a confident, not cocky, attitude that Tom exudes when discussing Stradalli.
About Stradalli Cycle Company
Stradalli Cycle Company is based in Florida and sells worldwide to the keen athlete who demands the best equipment. With years of experience in both, high tech manufacturing and design as well as a love for cycling, Stradalli brings passion and innovation to the road racing and mountain bike markets.
Contact
http://www.stradalli.com
sales(at)stradalli(dot)com
###