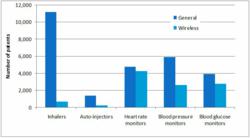 We identified several areas in telehealth which patent clusters may be emerging. This clearly signals accelerating rates of innovation, competition and market maturity in the space...
Cambridge, UK (PRWEB UK) 2 June 2011
CambridgeIP's research provides evidence of a rapid growth in the importance of wireless technology to six medical devices areas. The report entitled 'Emerging patent thickets and standards in the medical devices and telehealth space – Innovation, market dynamics and policy options in cross-over technologies' focused on medical devices including: Auto-injectors, Blood pressure monitors, Blood glucose monitors, Heart rate monitors and Inhalers. In the case of Blood Glucose monitors and Heart Rate monitors 71% and 89% of patents filed respectively utilize wireless technology.
In a space increasingly characterised by the convergence of medical and telecommunications technology, market structure is changing rapidly. A number of players traditionally associated with telecoms and electronics equipment have entered the telehealth space, while many pharmaceutical companies have increased their usage of wireless technology in their medical devices. The research also found increasing technology ownership concentration in telehealth related areas. For instance, the top 10 patenting companies in the blood glucose account for 46% of all patent filings for Glucometer wireless enabled devices.
According to report author and CambridgeIP CEO Ilian Iliev "We identified several areas in which patent clusters may be emerging. On the positive side, this clearly signals accelerating rates of innovation, competition and market maturity in the space. However, there is increased likelihood of patent litigation, proliferation of proprietary standards and even patent holdups such as we have seen in the Smartphone industry. We are monitoring the evolving business models of the leading Telecommunications and Pharmaceutical companies to see how they overlap in the future, how they handle potential IP conflicts, and the extent to which SMEs can retain adequate access to this growing market".
Sussex University academic Dr.Puay Tang adds that "in the absence of technology standards bodies and industry cross-licensing, the possibility of emergence of patent thickets in this space may lead to increased patent litigation, and over time barriers to innovation... We should apply lessons learned in other industries in the telehealth space, where public sector funding is so important".
CambridgeIP's research identified the strengths of UK enterprises in both telecoms and medical devices technology and made policy recommendations to the recent government Hargreaves Review. CambridgeIP Chairman Quentin Tannock said that "whereas our findings identify clear UK strengths in the medical devices space, UK-based patent owners have a decreased share of overall patents in wireless applications of medical devices. It is important for policy-makers to understand what drives this finding and to develop measures to support the emergence of the UK as a leader in telehealth technology".
The CambridgeIP report was commissioned by the UK Intellectual Property Office ('UK IPO'), and was a contribution towards the UK Government's Independent Review of IP and Growth ('Hargreaves Review'). The Hargreaves Review focused on the overall role of the patent system in promoting entrepreneurship, economic growth and innovation, and any potential barriers to innovation which have resulted from current patenting practices.
To support the diffusion and public interaction of the report's findings, CambridgeIP partnered with Boliven.com to publish an updated telehealth patent landscaping dataset on Boliven.com. This enables key stakeholders to conduct their own analysis of the underlying CambridgeIP patent datasets. These are available on: http://www.boliven.com/landscapes/telehealth.
About CambridgeIP and Boliven Landscapes
CambridgeIP is a provider of business and technology intelligence and innovation strategy services to companies around the world. CambridgeIP's work has been covered in leading publications, including the Harvard Business Review, Wall Street Journal and Bloomberg. CambridgeIP products include patent landscaping, competitor mapping and analysis, technology mapping, technology market research, technology evaluation, and M&A analysis. CambridgeIP runs Boliven.com, a leading online information portal for R&D and IP professionals, making available over 100 million scientific and patent documents.
Boliven®, CambridgeIP® and IP Landscape® are registered trademarks of Cambridge Intellectual Property Ltd, All Rights Reserved.
Resources:
Contact us
For media enquiries about CambridgeIP and Boliven.com please contact Jacqui Clover by email on media@cambridgeip.com.
CambridgeIP telehealth Report:http://www.cambridgeip.co.uk/index.php/knowledge-centre/key-cambridgeip-publications
Boliven Landscapes™: http://www.boliven.com/boliven_landscapes
Hargreaves Review: http://www.ipo.gov.uk/ipreview-finalreport.pdf
CambridgeIP: http://www.cambridgeip.com/
###