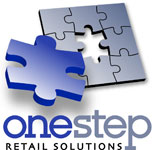 91% of retailers choose Google as the number one source for information about point of sale systems.
Los Angeles, CA (PRWEB) June 03, 2011
In a recent survey of their point of sale customers, One Step Retail Solutions (http://onestepretail.com) found that 91% of retailers choose Google as the number one source for information about point of sale systems. One Step has conducted this survey in prior years and this is the first time that Google has out-ranked "Other Retailers" as the top source of information about POS software.
The survey was conducted by phone interview on a substantial portion of One Step's point of sale clients, representing both single stores and medium chains in specialty retail in all parts of the US. The survey also showed that "Other Retailers" is the second most valued source and "the Service Provider's website" is the third most valued. On the bottom end of the scale were the social media sites with Facebook only being used as a source secondarily by a little less than 12% of retailers and YouTube used secondarily by 9%.
"It seems clear that retailers have increased their confidence that they can search Google and do the comparisons themselves," stated Donna Wesley Rogers, Director of Marketing & PR at One Step. "In the past they have relied heavily on their fellow retailers for information, but these results show they now feel they can research and learn on their own. It reinforces the focus of our marketing efforts on the Internet."
One Step Retail Solutions surveys their clients annually to ascertain these retailers' satisfaction with One Step's services, to determine new services that their customers need and to track changes in attitudes and behavior.
About One Step Retail Solutions
For over 25 years, One Step Retail Solutions has been one of the nation's leading resellers of point of sale / inventory control systems for retailers. As one of the largest retail service providers in the United States, it has supplied retail technology solutions to over 6000 stores and currently supports over 3600 stores nationwide. One Step is the largest reseller of Retail Pro in the world, added Radiant's CounterPoint SQL to its product list in 2008, and also sells HP, IBM, and MicroSoft products. Its most recent additions include Teamwork Retail, QBPOS, LightSpeed and Apple products. Its corporate headquarters are in Phoenix, Arizona, with offices in Los Angeles and New York. Website: http://www.onestepretail.com.
# # #