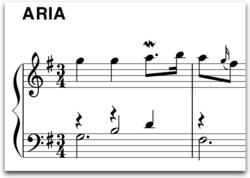 The classical music world is about to meet the open source world.
Cologne, Germany (PRWEB) June 01, 2011
As part of the Open Goldberg Variations Project, MuseScore has created a new edition of Bach's Goldberg Variations. The score was created with the open source MuseScore notation software and is intended to be distributed electronically, for free, with no usage restrictions.
The public review period, which will last for at least three months, is intended to help the MuseScore team identify any problems with the score, and to give music enthusiasts and scholars around the world the chance to validate the score before it reaches its final form.
MuseScore has provided special web based tools for reviewing sheet music. Reviewers have the tools to view the score and listen to it right in the browser. Online annotations to the score provide for accurate commentary and corrections. The Goldberg Variations can be downloaded as MuseScore, MusicXML, MIDI, mp3, or PDF files. Reviewers who download the MuseScore program can edit the Goldberg Variations directly.
The MuseScore website also facilitates the making of video scores. Video scores are linked with a YouTube video and the playback of video and score are synchronized. Here is a video score of Kimiko Ishizaka playing one of the Goldberg Variations.
MuseScore is a partner in the Open Goldberg Variations Project, a crowd-funded effort to place a definitive score and recording of the work into the public domain in such a way as to make it easily available, without usage restrictions, for everybody, forever. Award winning pianist Kimiko Ishizka will produce the studio recording of the work later this year. Funding continues on Kickstarter until June 3, 2011.
# # #