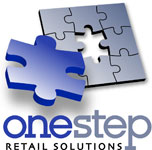 "Increase Your Cash Flow and Profitability Conference" for retailers using Retail Pro point of sale system
Los Angeles, CA (PRWEB) June 03, 2011
One Step Retail Solutions (http://www.onestepretail.com) announced today that they are sponsoring a new event in June, the "Increase Your Cash Flow and Profitability Conference" for retailers who use Retail Pro POS software.
The all-day event will be held on Tuesday, June 28th at the Skirball Cultural Center in Los Angeles from 9 am to 5 pm. The Keynote Speaker for the event will be Kerry Lemos, CEO of Retail Pro International, speaking about the future development of Retail Pro software and its impact on the 35,000 stores around the world that use this point of sale system.
One Step Retail Solutions has invited over 400 retailers to attend and is providing an agenda that includes seminars on "Understanding Key Performance Indicators for Retail", "Ecommerce for Improved Cash Flow" and "Marketing to Increase Profitability". Continental breakfast and lunch are included for attendees, with lunch being sponsored by HP.
In announcing the event, Scott Kreisberg, CEO of One Step, said, "We always want to do more for our retail clients than just deliver their software. It is important to us that they flourish and prosper as retailers and to that end we want them to be able to realize the full potential of the technology systems they have installed. We want them to truly get a return on the investment they have made in their system."
Attendees will also receive passes for two to the Skirball Cultural Center Museums.
About One Step
For over 25 years, One Step Retail Solutions has been one of the nation's leading resellers of point of sale / inventory control systems for retailers. As one of the largest retail service providers in the United States, it has supplied retail technology solutions to over 6000 stores and currently supports over 3600 stores nationwide. One Step is the largest reseller of Retail Pro in the world, added Radiant's CounterPoint SQL to its product list in 2008, and also sells HP, IBM, and MicroSoft products. Its most recent additions include Teamwork Retail, QBPOS, LightSpeed and Apple products. Its corporate headquarters are in Phoenix, Arizona, with offices in Los Angeles and New York. Website: http://www.onestepretail.com.
About Retail Pro International, LLC
Retail Pro International, LLC, is a global leader in Point of Sale, Store Operations, and Back-Office software applications for the specialty retail industry. With 90 offices across 47 countries, Retail Pro's network of affiliates provides local support and service for its worldwide customer base in the customer's local language and time-zone for more than 35,000 retail stores in 63 countries using 18 different languages. For more information, please visit http://www.retailpro.com.
# # #