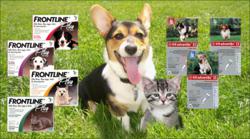 Pompano Beach, FL (PRWEB) June 02, 2011
Acting Quickly to Help Animals in Need
As soon as the staff at 1800PetMeds heard the news about the storm, they reached out to the Joplin Humane Society Animal Adoption & Resource Center to find out if they were able to accept donations. Fortunately, the Humane Society was spared the worst of the storm, and were open and operating amid the destruction. People have brought hundreds of injured and displaced pets to them in hopes that the pets can be helped or reunited with their owners, and 1800PetMeds has donated supplies and over $1000 to the Joplin Humane Society to help them do what they do best – care for animals.
Anthony Planakis, the Donation Coordinator for 1800PetMeds, was in charge of the Joplin donation effort. "As soon as we found out the Humane Society was still able to accept donations and care for the found animals, we immediately made a donation of over $1,000.00, comprised of cash and products, many from the shelter's wish list, including a pet pen, a designer cot, a deluxe portable soft dog crate, a bed, and a large box of flea and tick preventative medications," said Anthony.
How You Can Help
If you want to help animals in Joplin get the care they need until they can be reunited with their families or find new homes, the staff at 1800PetMeds encourages you to donate what you can. Any donation helps! Monetary donations are always welcome, and they need supplies as well. For more information about is needed, check out the donations page on their site. For your convenience, you can even donate online.
For now, the Humane Society is asking for all donations to be driven through their Facebook page. There you will be able to find out exactly what they need the most (right now it's supplies like paper towels, toilet paper, pens, permanent markers, copy paper, and trash bags). They are also posting photos of lost and found pets in hopes that they will be able to reunite pets with their people.
Year-Round Dedication to Homeless Pets
Caring for animals is what 1800PetMeds does – and not just during tragedies. They have a dedicated donations group that sends product donations year-round to help animals all over the country. If you'd like to learn more about how 1800PetMeds cares for animals and supports the community, visit the 1800PetMeds Charitable Causes site.
About 1-800-PetMeds®
Founded in 1996, 1-800-PetMeds® is America's Largest Pet Pharmacy®, delivering prescription and non-prescription products such as Super Joint Enhancer, Super Joint Omega 3, and other pet meds for dogs, cats, and horses at competitive prices direct to the consumer through its 1-800-PetMeds® toll free number (1-800-738-6337) and on the Internet through its website at http://www.1800petmeds.com.
###