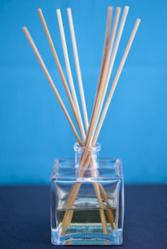 The result is a reed diffusing product that will build brand loyalty and repeat sales based on superior performance.
Pittsburgh, PA (PRWEB) June 03, 2011
No dipping, no flipping, no clogging, no spilling. So promises fragrance manufacturer, Alpha Aromatics, about its new Flow Science® "reed" diffuser rods and diffuser oils.
The market for fragrance reeds remains strong despite drawbacks to this popular method of diffusing scents into the air. Fragrance ingredients can quickly clog the cellular sections of ordinary diffuser reeds, rendering them ineffective. Wood and bamboo reeds often contain dense knotty areas that impede the wicking action necessary to carry the diffuser oils up and out of the container. For this reason many suppliers recommend initial dipping and flipping of the reeds, a potentially messy procedure. By their nature, reed diffuser containers are prone to tipping and spilling exposing manufacturers, suppliers and retailers to potential liability.
Now, Alpha Aromatics has solved these problems by offering a patent-pending technology called Flow Science® applied to slender rods (reeds), creating a totally-effective alternative to problematic reed diffusers. Rather than wicking diffuser oil from a container, the reeds actually hold the diffuser oil within themselves without any free liquid to spill—even when tilted 180 degrees.
Here's how it works. Each Flow Science® reed features micro-engineering enabling it to contain specially-formulated diffuser oil in its reservoir core. A precisely designed capillary system then carries the liquid up and out, flowing onto a secondary wicking surface. From there, the scent diffuses consistently over time without clogging, dipping, flipping or spilling.
Complementing the Flow Science® delivery system is Alpha's development of proprietary diffuser oil bases carefully crafted to match the unique physics of the new reeds. Alpha Aromatics' Chief Perfumer, Roger Howell commented on the results. "We've done exhaustive lab and panel testing to arrive at the perfect formula. We've been able to marry trend-setting fragrances with this new technology. The result is a reed diffusing product that will build brand loyalty and repeat sales based on superior performance."
The Flow Science® reeds are available in any length and diameter. And the technology is easily adaptable to other retail air care products including car air fresheners, a replacement for gels and other solid matrices, and an alternative to heat units to name a few.
The reeds are available immediately in all popular sizes; and Alpha is welcoming inquiries from distributors, manufacturers and OEMs.
About Alpha Aromatics® — Since 1987, the founders of Alpha Aromatics® have established a proven track record of fragrance creation and production for every application. On average, key employees have more than 20 years of fragrance industry experience, most of it gained directly with the company. For more information, visit Alpha Aromatics® online at http://www.alphaaromatics.com
###