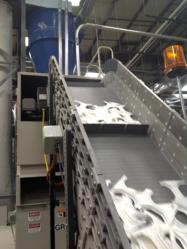 I would never buy another traditional type conveyor for handling scrap. And the evidence shows. Once I bought the first one and we liked it, I never looked back.
Muskegon, MI (PRWEB) June 02, 2011
Since the beginning of the industrial revolution, the focus in the manufacturing arena has been directed at doing it more efficiently. Today, with what history may deem the 'environmental revolution', manufacturers must also take into account how to get it done faster while also using less resources, creating less pollution and waste, and still finding a more cost effective way.
Committed to increasing product value while generating less waste from production processes, minimizing its impact on nature, and reducing energy usage, Rexam, a leading global consumer packaging group serving a number of markets including the beverage, personal care, healthcare and food markets, has successfully improved year to year in doing more with less.
At Rexam's Union, Missouri, 24/7 plant that produces 1.2 billion thermal formed high barrier food containers per year, a zero scrap-waste system is in place. "We've always been able to reuse our scrap, but the DynaCon conveyors make it a lot easier," says Mark Borzillo, Plant Manager.
DynaCon modular conveyor systems, manufactured by Muskegon, MI-based Dynamic Conveyor Corp., give plastics manufacturers turnkey custom conveyor systems from standard modules that easily reconfigure in minutes.
At the Missouri facility, modular conveyors transport chopped web scrap from a trim press, through a metal detector module, to the granulator for regrinding into usable size pellets where it is reintroduced to the extruders.
Borzillo says, "the modular conveyor systems are hundreds of pounds lighter than standard metal conveyors making them easier to move around when performing product change-over and placing different equipment in the machines." In addition, he adds, "they're competitively priced. There are cheaper conveyors, but you get what you pay for."
The modular conveyor systems also contribute to the reduction of emissions from transport, and the reduction of whole lifecycle carbon footprint associated with the manufacture and ultimate "end of life cycle" breakdown of more traditional metal conveyors.
Borzillo says of the high impact polycarbonate modular conveyors, "they are made from small sections, like LEGOsTM, and you just build the modular conveyor systems like you want them. If a line changes and I need the conveyor shortened 6 inches, or the slope of an incline changed, I don't need to get rid of a conveyor and buy a new one. I just take a module out, or pop one in and we're good to go."
The sustainable model of switching out smaller modules rather than replacing an entire conveyor coupled with the fact that the DynaCon's use considerably less energy to operate than standard conveyors, allows organizations to remain within their eco-efficient standards and retain smaller carbon footprints, while doing so at lower costs than standard conveyor technology offers.
Borzillo says, "I would never buy another traditional type conveyor for handling scrap. And the evidence shows. Once I bought the first one and we liked it, I never looked back."
In addition to energy cost savings, lower freight costs, and eliminated replacement costs, modular conveyors lend themselves to manufacturers' desires to do things cheaper, faster and smarter while using less resources, and creating less pollution and waste.
To learn more about Dynamic Conveyor Corp's conveyors, next business day parts replacement, or 5-year guarantee, visit http://www.dynamicconveyor.com or contact the company at 5980 Grand Haven Road, Muskegon, MI 49441; phone (800) 640-6850; fax (231) 798-9583.
###