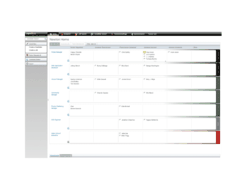 Amazon's AWS will provide Newton the agility and scalability for continued fast-paced growth and the reliability to continue to exceed our applicant tracking customers' expectations.
San Francisco, CA (PRWEB) June 02, 2011
Newton Software, the leading provider of modern, corporate applicant tracking software, has joined technology leaders like Microsoft, IBM and Netflix in Amazon's Cloud Computing environment. Newton added over 100 new customers in 2010 and grew revenue by over 1000%. And, the company is reporting similar exponential growth already in 2011. As a result, Newton's leadership chose Amazon's Elastic Compute Cloud (Amazon EC2) environment to provide the scalability needed to ensure continued successful growth.
"Amazon's AWS will provide us the agility and scalability for continued fast-paced growth and the reliability to continue to exceed our customers' expectations," explained Newton Software's Head of Marketing, Joel Passen. Passen went on to point out, "This isn't just some cloud marketing sizzle. There's meat here. We've made a significant upgrade, putting the Newton application, the business and most importantly our customers in a great position."
Newton's product team has been testing Cloud computing since Amazon and other vendors announced public availability in 2009. "Our team has anticipated moving to the Cloud for some time and our development team has very intentionally designed our applicant tracking software to take full advantage of this advanced computing infrastructure," remarked Steve Hazelton, Newton's Head of Products. Hazelton went on the say, "Moving to Amazon gives us a huge advantage. We will continue to innovate and scale with better infrastructure, fewer resources and less operational overhead while continuing to add value for our customers."
Significant Advantages in the Cloud:
Moving to the Cloud makes Newton even more agile and provides existing and future customers significant advantages.
Scalability:
Amazon AWS enables Newton to increase capacity within minutes, not hours or days. The Newton Cloud Administrator can commission one or hundreds of server instances simultaneously, enabling Newton to automatically scale up and down depending on customer demand. This scalability proves critical as Newton Software attracts nearly 20 new customers a month.
Reliability:
The Cloud offers a highly reliable environment where replacement instances can be rapidly and predictably commissioned. Should a server fail, Newton's corporate recruiting software will just bounce to a server that is working – instantly! The Amazon EC2 SLA commitment is 99.95% availability in any Amazon EC2 region. This means that Newton is ultra-reliable all over the world, all the time.
Performance:
By switching to the Cloud, Newton becomes even faster. And, it allows Newton's development team to continue to build innovative features. For example, Newton's powerful custom reporting engine leverages extra computing power and read-only database technology to enable users to run complex customized reports instantly.
Newton Software Continues to Innovate:
Most applicant tracking software relies on 10 year-old legacy platforms (not the Cloud) for operating power. 'Switching' to the Cloud won't be a viable option for vendors of legacy products who can't commit the resources to a full redesign of their products. Alternatively, Newton was born on the web and now is leveraging the world's most cutting-edge web-based infrastructure to deliver modern, reliable enterprise applicant management systems to growing companies.
About Newton Software:
Newton Software, Inc. is a San Francisco-based software company founded in January of 2009. Newton delivers an intuitive and affordable job applicant tracking solution for managing, organizing and improving corporate recruiting programs with no hardware to buy or software to license. Newton manages the recruiting process for over 200 organizations in the US and UK. For more information, please visit the Newton Software website or contact us directly.
###