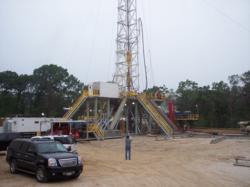 Dallas, TX (PRWEB) June 01, 2011
As part of a long-term Gulf Cost development strategy, Southlake Resources Group is beginning a three-well drilling program in San Patricio County, Texas. Southlake Resources Group, an independent exploration and production company based in Dallas, Texas, announced today that it will begin operations this month on a 3 well drilling program in San Patricio County, Texas.
The SRG Tamale #1 Prospect is expected to be drilled to 4800 feet to test Upper Frio-aged oil and gas sands. The drill site is near two fields that together have produced 210 million BO and 314 BCF. The prospect is targeting stacked Frio objectives in a four-way closure (anticline) updip to oil production in the Plymouth Field (125 million BO and 134 BCF). The primary objectives of the SRG Tamale #1 Prospect are 3 proven productive zones in the Greta Stringer formation and 2 zones in the Greta Massive formation. The anticlinal structure is generally defined by subsurface well control with the interpretation and proposed location confirmed by integrating 3D Seismic.
Management anticipates the well will reach total depth in about 8 days. Well completion and testing on the SRG Tamale #1 Prospect well should begin during the first week of July 2011.
Southlake Resources Group President Cody M. Winters stated, "Our strategy here is to mitigate the risk by applying modern technology and drilling prospects with multiple pay zones in developed fields." Winters added, "The SRG Tamale #1 has huge surrounding production from the Frio, Miocene and Vicksburg-aged sandstone reservoirs in this area and has great potential to show us cumulative production above 300,000 barrels of oil."
Southlake Resources Group based out of Dallas, Texas is a private, limited liability company formed to provide working capital and partner with highly successful operators for domestic oil and gas drilling programs. For more information on this and other activities of the Company, see the Southlake Resources Group web site at http://www.southlakeresourcesgroup.com.
# # #