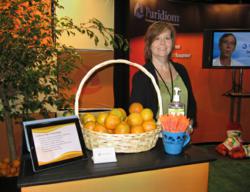 Mechanicsburg, PA (PRWEB) June 08, 2011
Attendees of the 96th International Supply Management Conference and Educational Exhibit got a taste of Florida, and Florida oranges, courtesy of ISM Sponsor, Puridiom, a leading Procure-to-Pay solution provider. After the conference, Puridiom donated the remaining oranges to the local foodbank.
Puridiom provided attendees the natural goodness of the Florida orange and a peeler, demonstrating the effectiveness of the right tool to provide an overall healthy and satisfying experience. "What does this have to do with eProcurement?" says Al Jacobs, Puridiom VP and COO. "We have always provided self-service procurement tools designed to enable procurement departments to work more efficiently and effectively. The orange peeler is one way to demonstrate the effectiveness of a simple tool to get the job done. Of course, we know procurement can be complex, but Puridiom's intuitive design and personalized support team are always there for you, providing more than eProcurement – technology, strategies, support and a best results solution."
"We are a procure-to-pay solution provider," adds Jesus Ramos, President & CEO, "providing not just the technology and software, but also the strategies and guidelines for success. We want to hand you the tool, show you how to use it, and share the outcomes with you. Puridiom tools align with best practice policies," Ramos continues, "which enables our clients to realize value procurement vs. price procurement – not just buying at the lowest price, but getting the best value for the organization."
Puridiom has been a sponsor at the ISM conference for over 5 years and is looking forward to the 97th Annual International Supply Management Conference in Baltimore, May 2012. Additional information can be found at the Puridiom website, by email, or by calling 1.800.388.1415.
About Puridiom
Puridiom is a leading Procure-to-Pay solution provider, offering the most comprehensive eProcurement software on both Cloud and Licensed platforms for organizations of all sizes and industries. For over 28 years, Puridiom has streamlined function in the supply chain with innovative technologies, providing dynamic personalized services and extensive domain experience. The easy-to-use software and team strategies enable organizations to gain a competitive position and transform business into a strategic resource savings entity. Solutions include: Enterprise Procure-to-Pay, Puridom Xpress, Strategic Sourcing, Catalog Content Management, Supplier Enablement, Invoice Automation, Business Process Outsourcing, and Travel Management. E-Procurement consulting services are also provided.
###