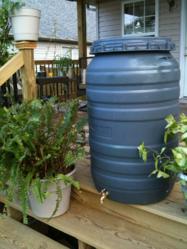 A typical residential roof can collect hundreds of gallons of water just in a typical rain event.
Lexington, KY (PRWEB) June 02, 2011
Kentucky, like many states, had its share of rain this spring. Summer doldrums will soon follow when the grass turns crunchy brown, lilies droop and our beloved tomato plants are parched. Then we'll pull out the trusty hoses, sprinklers and watering cans to combat the dry season. Shouldn't there be a better way? There is.
Rain barrels provide a way for us to save the precious water that pours in the spring and during summer showers and use it to water our plants when no rain is in sight. "I use the two at my house all the time," said John Hieronymus who makes and sells rain barrels in Kentucky. "I control the rain in my own back yard." He continued by stating that using rain barrel water is sustainable, doesn't affect the water bill and provides better quality water to promote healthy plants.
Hieronymus of Kentucky Rain Barrels has provided barrels to a number of customers this year. "I collect water in the lids of my trash cans when it rains and scoop it out for my tomatoes," recalls one customer. Rain water is pure and free. Without the added chemicals to make water safe to drink, rain water is a better way to water crops and trees, and rain barrels provide a way to better collect and use it when we need it most.
A rain barrel captures a massive capacity of rain water in an efficient manner. A typical residential roof can collect hundreds of gallons of water just in a typical rain event. A portion of this rain water can be stored in a rain barrel and used for watering thirsty gardens as the dog days of summer swelter on.
Kentucky Rain Barrels provides efficient, affordable rain barrels to central Kentucky. Just one rain barrel will hold 55 gallons of fresh, pure rain water. All are built from recycled food grade barrels that are guaranteed to be safe for water collection. Kentucky Rain Barrels offers two types of barrels, both available in a variety of colors to ensure the barrel is an asset to the garden's aesthetics.
Basic Rain Barrels offer several innovative design components that make collecting rain water effortless. Each rain barrel is equipped with a reinforced brass spigot at the bottom of the barrel that allows you to connect a garden hose, or simply dispense the water into a watering can. They are equipped with an overflow at the top to allow excess water to run to a desired location via a garden hose. With the overflow connection, even the excess water may be channeled to a soaker hose or tree base to maximize the rain. The barrels are also protected from mosquitoes and debris.
Advanced Rain Barrels provide the same amenities as the Basic Barrel but include an added rain water diverter. "The diverter allows the rain barrel to fill completely before routing water down your original downspout location," stated John. "You don't have to worry about overflow or overtopping and all excess is channeled to wherever your downspout currently goes".
Staring at $49, one rain barrel from Kentucky Rain Barrels can pay for itself in one season. Free, healthy, plentiful, pure water is available by installing a rain barrel today. See what their customers are saying about Kentucky Rain Barrels.
# # #