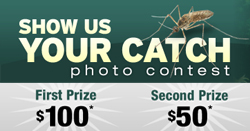 We're looking forward to seeing the creative and interesting entries from Mosquito Magnet customers!
Lititz, PA (PRWEB) June 02, 2011
The photos will be posted on MosquitoMagnet.com where site visitors will vote for their favorites. The entry with the most votes as of July 15th will win a $100 American Express gift card; the second-place photo will win a $50 American Express gift card.
Entering the photo contest is quick and easy: Mosquito Magnet owners simply take a photo of their Mosquito magnet trap and their most impressive "catch" (their filled Mosquito Magnet net) and submit it directly on MosquitoMagnet.com. All entries will be posted to a gallery where visitors can view the photos and vote for their favorites. Vote counts will be updated real-time, and a live leader board will let entrants know where they stand.
"Mosquito Magnet is excited to announce this year's Show Us Your Catch photo contest," stated Category Development Manager Andrea Long. "Our customers are continually impressed with the amount of mosquitoes their traps capture and we're excited to see images of their mosquito trap results. We encourage all our customers to send in their photos to compete for prizes."
Backed by multiple patents and research studies confirming the trap's effectiveness, the Mosquito Magnet is unlike other pest-control devices on the market. The mosquito trap uses the same propane one would use to fuel a gas barbecue and converts it to carbon dioxide, effectively mimicking the human breath that initially attracts mosquitoes. Once within range of the Mosquito Magnet trap, mosquitoes are further drawn in by the short-range attractant and then caught by the patented CounterFlow™ Technology, which vacuums them into a net where they quickly dehydrate and die. Breeding cycles are effectively disrupted, and Mosquito Magnet owners can enjoy their yards again.
"We know our customers love being able to enjoy the outdoors by using a Mosquito Magnet trap in their yards," said Long. "Now is their chance to show the world what the Mosquito Magnet has done for them, and to perhaps win one of the top prizes in the process. We're looking forward to seeing the creative and interesting entries from Mosquito Magnet customers."
To learn more about Mosquito Magnet, visit MosquitoMagnet.com. Complete contest rules are available at http://www.mosquitomagnet.com/showusyourcatch/rules.
About Mosquito Magnet®
Mosquito Magnet® is the leading biting insect trap in the consumer/residential market and is the only long-term solution backed by extensive independent research and scientifically proven to effectively reduce mosquitoes and other biting insects. To learn more about Mosquito Magnet visit http://www.mosquitomagnet.com.
About Woodstream Corp.
Woodstream is a privately held global manufacturer and marketer of branded insect and weed control products, humane wildlife control products, natural gardening solutions, wild bird feeding products, and garden decor.
###