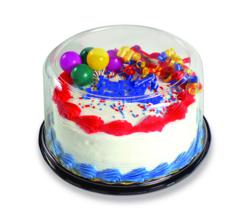 Fountain Inn, SC (PRWEB) June 03, 2011
D&W Fine Pack, a leader in the foodservice packaging industry, has recently expanded its DisplayCake® and SeeShell® packaging lines for broader bakery applications. The new products, which include 8 and 9 inch round scalloped 2-3 layer cake combos and 8 inch scalloped hinged containers, are making their debut at the International Dairy, Deli, and Bakery Association Show in Anaheim, California.
The new DisplayCake products offer a clear scalloped dome designed for easy viewing and a black base. The flat 9 inch round cake base was designed to also fit under D&W Fine Pack's DisplayPie® domes for more versatile uses such as fruit tarts or cheesecakes. These products are made from PETE (polyethelene terephthalate), which is the most recycled plastic and offers excellent gas and moisture barriers, freezing capability, and strength.
The new 8 inch SeeShell hinged container additions come in shallow, medium, and slanted depths and are made of clear OPS. The SeeShell containers are perfect for cookies, specialty breads, and fresh bakery items and offer great merchandising appeal.
"D&W is committed to providing a full range of options to our many bakery and deli customers," said Bob Saric, D&W Fine Pack's director of sales – grocery and processor. "Each of our products in these lines is especially designed to meet the customers' specific needs and to work interchangeably, offering greater flexibility and ease of use, as well as lower overall packaging costs."
D&W Fine Pack has worked closely with several of its key customers to specify, test, and refine DisplayCake and SeeShell products to meet the needs of end-users.
About D&W Fine Pack
Created through the merger of four foodservice industry companies (Wilkinson Industries, Dispoz-o Products, C&M Fine Pack, and Tri-Cities Packaging), D&W Fine Pack, a Mid Oaks Investments portfolio company, is one of the largest foodservice packaging firms in North America. Offering a full line of foodservice and food packaging, including tableware, containers, cutlery, straws, and meal kits, the company continues its commitment to expansion and customer responsiveness through the development of unique and innovative packaging and material solutions across all major substrates used in the industry. A committed leader in environmentally-friendly initiatives, D&W prides itself on helping the industry evolve to meet changing market demands while promoting packaging using sustainable materials and methods.
# # #