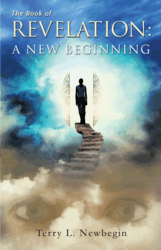 "The Book of Revelation: A New Beginning will help you open your soul memories where you will find the mystery is not about death, it is about you beginning anew," says Newbegin, "for religions have kept it a secret for thousands of years."
Johnson City, TN (PRWEB) June 03, 2011
The Book of Revelation is one of the most debated and difficult books of scripture. The new nonfiction book by author Terry L. Newbegin, The Book of Revelation: A New Beginning (published by Balboa Press) proposes that the scripture isn't about the end of days, but rather a guide to not look at one's self as a sinner and ascend to a higher state of mind.
"The Book of Revelation: A New Beginning will help you open your soul memories where you will find the mystery is not about death, it is about you beginning anew," says Newbegin, "for religions have kept it a secret for thousands of years."
The Book of Revelation: A New Beginning is unlike any other commentary. The study comes from Newbegin's belief in mystical contact with religious figures such as Jesus, Saint John, and others. He offers a broader perspective of who God is, who Satan is, and who everyone is outside their own boundaries of earthly and human beliefs. Newbegin suggests to readers that they are divine beings and that everything that is done and experienced is based on one's personal journey through time and space. The Book of Revelation: A New Beginning will make readers aware of their own divineness as gods themselves.
According to Newbegin, it is not God that is a mystery; it is the reader. When fear is resolved within, the hidden secrets in the Book of Revelation can be revealed.
The Book of Revelation: A New Beginning is Newbegin's guide to enlightenment and his interpretation of the final scripture, designed to lift the reader into trusting their Self as a God too.
About the Author
Terry L. Newbegin is an innovative prophet, a pioneer in New Energy at a time when religious thoughts and beliefs are based on conventional religion. Newbegin has a lifelong history of having an open mind, heart, and call for conscious awakening. Newbegin is also the author of Genesis: Your Journey Home, now in its second edition. For more information on the author visit http://www.terrynewbegin.com.
Balboa Press, a division Hay House, Inc., is a leading provider in publishing products that specialize in self-help and the mind, body, and spirit genres. For more information, visit http://www.balboapress.com.
EDITORS: For review copies or interview requests, contact:
Marketing Services
Tel: 1-877-407-4847
Fax: 812-961-3133
Email: pressreleases(at)balboapress(dot)com
(When requesting a review copy, please provide a street address.)
# # #