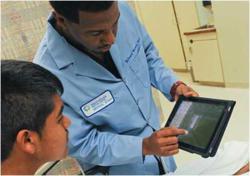 "We anticipate that SecureConsent 3.0 for the iPad will help companies and health care organizations educate and enroll patients and subjects into their trials, registries and procedures." Susan Brink, CEO, ConsentSolutions, Inc.
Frederick, MD (PRWEB) June 03, 2011
ConsentSolutions, Inc., which specializes in secure tools assisting the informed-consent process, has released SecureConsent® 3.0, an app specifically developed for candidate and patient consent use with the iPad. SecureConsent 3.0 enables clinical trial staff to track and monitor the consent process from initial consents through multiple amendments. It is also designed to help a trial candidate easily acquire the knowledge they need to make an informed decision about the research they are considering. Electronic document presentation and electronic signatures assure that all candidate actions are captured in an audit trail, and the SecureConsent Dashboard for trial staff provides a simple interface for managing candidate consent and patient tracking for amended consents and signature.
Selected features of the new app include the following:

Informed consent is presented to the candidate through the iPad touchscreen interface. Each candidate is given a secure, trial-specific user I.D. with which to log in.
Consent sections flagged as not understood by the candidate are marked for review with the investigator or research staff prior to final signature.
Digital handwritten signatures for subject and witnesses, audio track, and optional embedded multimedia educational pieces are offered.
A Back Office Dashboard for clinical trial staff facilitates consent assignment, amendment tracking, and candidate metrics, as well as real-time monitoring of subject consenting by site and candidate.
ConsentSolutions provides clinical staff training and standard operating procedure (SOP) templates for using Back Office and presentation of consent to candidates. SOPs can be modified to meet the workflow needs of specific clinical sites.
About ConsentSolutions
Founded in 2005 with offices in Frederick, Maryland and Norwich, Vermont, ConsentSolutions provides innovative approaches to improving the consent process through the use of electronic media. The company designs multimedia platforms for educating potential research participants and assuring their understanding of trials, and works with sponsors and trial staff to assure optimum presentation of trial information. It is focused on supporting trial staff and developing interactive, user-friendly software and Web sites that help candidates and patients understand and make an informed decision about clinical trial participation. Its software tools are available for institutional licensing.
ConsentSolutions's initial product. SecureConsent™, was launched in June 2006. The company's senior management team has decades of combined experience in specialized health communications, interactive design and programming, and optimized Web applications, as well as extensive hands-on experience delivering media-based educational and decision-support materials for patients.
###