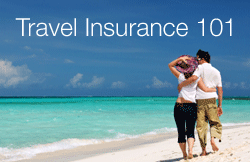 Hingham, MA (PRWEB) June 02, 2011
As the summer travel season approaches, Travel Insurance Review, a trusted online resource for travel insurance consumers, has released an updated Travel Insurance 101, a mini course in travel insurance for the consumer who wants to protect their travel investment dollars and themselves.
Only about 30 percent of U.S. travelers purchase travel insurance according to the U.S. Travel Insurance Association (USTIA); however, travelers have begun to realize that unforeseen events like volcanic ash clouds, hurricanes and tornadoes, riots and political struggles, financial defaults and mechanical failures, accidents and illnesses can not only destroy a well-planned vacation but also cause significant financial harm to the travelers and their families. A case in point: we all watched last year as travelers without travel insurance incurred huge expenses while waiting for the effects of the Icelandic ash cloud to dissipate and normal travel to resume.
Travelers of all ages are also increasingly aware that health insurance plans back home (even Medicare and many private insurance plans) do not apply outside the traveler's home country. If a traveler experiences a common slip-and-fall abroad, a medical provider may demand up-front payment before setting that ankle at a cost that can run into thousands of dollars.
The decision to purchase travel insurance plans makes a lot more sense these days, and just in time for the 2011 summer travel season, Travel Insurance Review's Travel Insurance 101 helps consumers understand:

what travel insurance covers (and what it does not)
what types of travel insurance plans are available (and who should purchase them)
how to purchase travel insurance (and what it costs)
and what to do with it once you've bought it
When you make travel arrangements - whether for business or leisure - it's an investment in time an money. It may be the 'trip-of-a-lifetime', your honeymoon, or the business meeting that makes your fortune, but it's still an investment, and therefore worth protecting.
It's important for travel consumers to understand is that a wide range of travel insurance plans is now available. These plans range from comprehensive package plans, which cover trip cancellations and trip interruptions, to basic plans that protect travelers from costly emergency evacuations and high medical bills while traveling. Understanding the coverage each traveler needs and how to compare quotes gets a whole lot easier starting with a visit to the Travel Insurance Review website.
About Travel Insurance Review
Started as a travel insurance blog in 2006, Travel Insurance Review quickly became identified as a trusted independent authority on travel insurance and travel insurance providers. The goal of Travel Insurance Review is to provide the best information available for travelers seeking to understand and purchase travel insurance. Travel Insurance Review provides timely, useful, and comprehensive reviews and information to travelers who want to protect themselves, their families, and their travel investment while traveling inside the U.S. and abroad. Visit http://www.travelinsurancereview.net for more information.
###