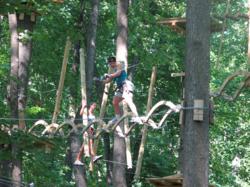 Muddy Buddy is a great fit for a four-season recreational destination like Ellicottville. You can challenge your fitness and have fun at the same time.
Ellicottville, NY (PRWEB) June 03, 2011
Tired of the same old, same old? Then it's time to check out the newest attractions in Ellicottville where outdoor adventure awaits you – from the ground up – with the inaugural Columbia Muddy Buddy Ride and Run Series and brand new Sky High Adventure Park.
Heading to town for the first time on Saturday, June 18, Muddy Buddy is a six-mile off-road race in which teams of two ride and bike through a rugged course, tackling four free-standing obstacles along the way and finishing with a slippery crawl through a 50-foot mud pit. The inaugural event kicks off at 8:00 a.m. at Holiday Valley Ski Resort, featuring enhanced obstacles – anything from cargo net crawls and low walls to cargo net climbs and balance beams – and a new competitive division where the fastest "muddy buddies" vie for the ultimate title.
"We're thrilled to host such a signature event," said Brian McFadden, Executive Director at the Ellicottville Chamber of Commerce, noting that since the first Muddy Buddy was held in 1999, the national event has grown to include 35,000 participants each year at 18 different venues. "Muddy Buddy is a great fit for a four-season recreational destination like Ellicottville. You can challenge your fitness and have fun at the same time," said McFadden.
At the start of the race one team member runs and the other rides. When they reach the first obstacle, riders drop their bikes, complete the obstacle and run to the next stop. Meanwhile, runners arrive, complete the obstacle, find their bikes and ride on, leapfrogging their teammates before the next obstacle and continuing that way until the end when they crawl through the infamous mud pit to cross the finish together.
Teams can register for Muddy Buddy on-line up until June 14. The $150 team registration fee includes a finisher's medal, commemorative drawstring bag, t-shirt, post-race food and entertainment and two free beers at the Muddy Buddy beer garden (must be legal drinking age).
Also taking Ellicottville to a new level of outdoor adventure this season is the opening of the highly anticipated Sky High Adventure Park at Holiday Valley Ski Resort, featuring an Aerial Park and Mountain Coaster.
"Both Muddy Buddy and Sky High are generating a lot of buzz here and Holiday Valley deserves a lot of credit for launching a great new event and a great new attraction in the same year," observes McFadden.
Stretched across a four-acre section of woods, the Aerial Park boasts eight separate courses of varying degrees of difficulty, each one consisting of a series of wooden platforms and bridges connected between trees and presenting the challenge of how to get from one to the next. The more difficult courses are higher up in the trees, with some featuring exhilarating zip lines as well.
"It's not so much about strength, but rather about strategy and balance," said McFadden. "The Aerial Park is a spectacular venue for families and friends, as well as a great opportunity for co-workers to take part in corporate team-building."
Meanwhile, the Mountain Coaster is a 284-foot high roller coaster built into the side of a mountain. Riders are in cars on rails, using brakes to control their speed as they zigzag nearly 2,000 feet downhill for the spiraling ride of a lifetime. Construction is under way with plans to open the Mountain Coaster in time for summer.
###