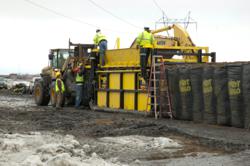 TrapBag barriers' sheer strength and unique design make them an excellent choice for fighting floods.
Fort Myers, FL (PRWEB) June 01, 2011
More than three miles of TrapBag® cellular containment barriers are being installed at various locations in Bismarck, N.D., to help protect lives and property as the Missouri River approaches flood stage. TrapBag barriers as flood-control systems are part of the U.S. Army Corps of Engineers' proactive plans to manage flooding, providing buffers from overland water to homes and other structures. The Missouri River is rising from massive snowmelt, steady rain in states to the north, and record levels of water releases at Garrison Dam.
TrapBag portable barriers are rapidly deployable cellular containment systems used for flood protection and control, erosion control, mudslide repair and prevention, pollution spill barriers, and other applications where a secure container barrier system is needed. Each barrier system is a series of 100-foot-long pentagon-shaped cellular containers with a common flexible portion separating each individual cell. They are connected side by side like an accordion, with separate cells within, making it easy to deploy and store. Each cell is sloped on one side, vertical on the other, and open on top for filling.
TrapBag barrier system segments are hung on a guide rail system of a mobile delivery device where they are filled with sand or gravel (or other fill material) from a front-end loader, excavator or other heavy machinery. A tractor pulls the delivery system while the hopper is loaded to fill each cell.
"A crew of four can provide up to one mile of TrapBag barrier protection in about 24 hours, and each 100-foot-long barrier comprises just 34 bags," said Victor Althoff, the TrapBag barrier system's representative in Bismarck for the past two weeks and who will be there for at least two more. (Contact Althoff at (219) 561-1323.)
In all, nearly 3.25 miles of TrapBag barriers are being installed east of the Missouri River in Bismarck:

9,500 lineal feet on Fox Island, under a contract with Burleigh County
5,300 lineal feet along Burleigh Avenue, under a contract with Army Corps of Engineers
2,300 lineal feet along 48th Avenue S.E., under a contract with Army Corps of Engineers
2,000 feet on Riverwood Drive near Southport Loop less than .25 miles south of Bismarck Expressway, under a contract with Army Corps of Engineers and the city of Bismarck
800 feet around Prairie Rose Elementary School, under a contract with Army Corps of Engineers
Other locations in the 3.25 miles include the Larson Road, Far West Drive, Smokey Lane, Fontenelle Drive and Tavis Road areas, also under a contract with the Army Corps
"TrapBag barriers' sheer strength and unique design make them an excellent choice for fighting floods," said Everett "Buzz" Waid, inventor of the patent-pending TrapBag brand of quick-install barriers, and president of Sentinel Barriers headquartered in Fort Myers, Fla. AmeriGlobe of Lafayette, La., manufactures the barrier container bags themselves. Officials in South Dakota recently purchased more than 6,700 empty bags from AmeriGlobe as that state prepares for flooding as well.
TrapBag barriers have been used extensively in other areas this year as well. More than six miles were deployed in Fargo, N.D., prior to the Red River of the North's flooding; in Metropolis, Ill., TrapBag barriers protected a seed and crop-product retailer's operations; and two miles of TrapBag barriers shored up existing levees in the Pontchartrain Levee District in Louisiana as the mighty Mississippi flooded the Iberville area.
About Sentinel Barriers:
Sentinel Barriers President Everett "Buzz" Waid invented the TrapBag cellular containment protection system after helping the town of Fort Myers Beach, Fla., recover from Hurricane Charley in 2004. TrapBag barrier systems have also been proven effective in the Florida Everglades and other major projects. The company has extensive experience in providing barrier protection, and is presently providing assistance to state departments of transportation for primary flashflood erosion protection and mudslide abatement, as well as bridge-foundation protection.
About AmeriGlobe:
Since we opened our doors in 1985, our customers have come to rely on AmeriGlobe to innovate, create, craft and deliver while maintaining focus on their needs. The quality of AmeriGlobe's bulk containers is ensured by strict quality control procedures, including UV testing machines. AmeriGlobe also offers a supply-line guarantee, giving customers peace of mind knowing they will receive orders on time. AmeriGlobe is C-TPAT Certified, which gives our customers' supply lines extra security. Plus, we are doing our part in the "greening" of the planet by providing customers with intelligent methods for re-using and recycling containers through our Container Refurbishing Center. Visit AmeriGlobe online at http://ameriglobe-fibc.com and http://www.StopYourFlood.com.
# # #