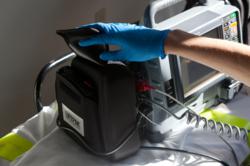 Minneapolis, MN (PRWEB) June 02, 2011
Multi-Tech Systems®, a global leader in machine-to-machine (M2M) communications solutions, along with Physio-Control, Inc., a global leader in emergency medical solutions, have been named finalists in the Connected World Magazine 2011 Value Chain Awards. This industry honor showcases the most successful corporate adopters of M2M technology and connected devices, as well as the solution providers that made their success possible. The awards recognize the process of successfully combining multiple technologies such as device-connectivity hardware, radio modules, network service and provisioning, as well as application software and infrastructure, to create a winning solution for the end customer.
Physio-Control, which developed the LIFEPAK® series of portable cardiac monitors/defibrillators, leverages Multi-Tech's cellular technology to bridge field and hospital care teams to improve a patient's time to treatment. The LIFEPAK series of portable monitors/defibrillators allows emergency responders to gather and send critical patient care information over the cellular network to the web-based LIFENET® data management platform. Multi-Tech cellular modems enable this technology. With proven experience providing real-time data communications solutions for the mobile health industry, Multi-Tech's solutions add instant communications capability and seamless interoperability with new and existing devices. For more information, including customer stories, an on-demand webinar or informational brochures on Multi-Tech solutions for the medical industry, please visit: http://www.multitech.com/en_US/SOLUTIONS/M2M/Healthcare/
The Multi-Tech and Physio-Control solution will be recognized, among other finalists, ranging from home health to public infrastructure, and HVAC to fleet management, at the Connected World Value Chain Awards formal gala, which is held in conjunction with the annual Connected World Conference from June 14-16. The Connected World Conference delivers insight into the emerging technology trends shaping the future of connected devices technology.
This is the third time Multi-Tech is recognized as a finalist in the Connected World Value Chain Awards.
About Physio-Control, Inc.
Physio-Control, a wholly-owned subsidiary of Medtronic, Inc., is located in Redmond, Wash. Physio-Control pioneered defibrillation technology more than 56 years ago. The company is the world's leading provider of external defibrillation and monitoring technology for the treatment of sudden cardiac arrest and other cardiorespiratory emergencies. To find out more about Physio-Control, go to http://www.physio-control.com or call 1-800-442-1142.
About Multi-Tech Systems
Multi-Tech® Systems is a global manufacturer of a comprehensive line of external and embedded modems and Unified Communications products that connect data over 2G and 3G cellular networks from anywhere in the world. As a leader in the industry for 40 years, Multi-Tech's reputation for reliability and innovative design is evident with 80+ patents, 20+ million devices being used by thousands of customers worldwide and certifications from more than 30 carriers and over 80 countries. Multi-Tech is certified by the WBENC as a Women's Business Enterprise and by C-TPAT (Customs–Trade Partnership Against Terrorism). Visit http://www.multitech.com. Follow Multi-Tech on Twitter: twitter.com/MultiTechSys.
###