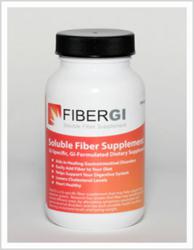 Fort Lauderdale, FL (PRWEB) June 03, 2011
The new website offers enhanced usability features and social media integration. The site changes were designed and based on communicated feedback from its customer base and audience demographics.
Their new soluble fiber supplement, FiberGI® is a GI-formulated fiber supplement which helps to support the digestive system and help individuals meet their recommended daily fiber intake levels as recommended by the American Dietetic Association (ADA). The ADA recommends that the average adult consume 25-35 grams of dietary fiber per day. Research has shown that the average American only consumes 14 to 15 grams per day. 2 daily premium FiberGI® capsules can help to offset daily fiber short-comings.
About SEROVERA®:
SEROVERA® offers non-prescription, GI-specific supplements for individuals with gastrointestinal diseases and autoimmune disorders. All products are manufactured GMP Certified (GMP refers to the Good Manufacturing Practice Regulations promulgated by the US Food and Drug Administration under the authority of the Federal Food, Drug, and Cosmetic Act.
Check out SEROVERA® Advantage, which utilizes both AMP and Probiotics to deliver a potent GI regimen that helps balance irregular gastrointestinal systems.
# # #