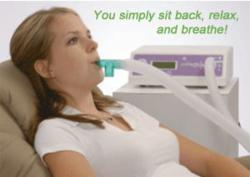 'The testing helps SDR staff and guests themselves to understand their metabolism,' says Poplaski. 'Someone with a lower metabolism needs to lower their caloric intake and raise their physical activity in order to burn calories and lose weight.'
Ellenville, NY (PRWEB) June 07, 2011
A new service is available to this summer's guests at Shane Diet Resorts to help them lose weight and pursue a healthy lifestyle- Metabolic Testing.
The test is conducted before the guest engages in activity, so that their metabolic rate can be determined while their body is at rest. By blowing into a tube, the machine measures the amount of oxygen and carbon dioxide in the guest's blood. That calculation shows the number of calories being used by the guest just to maintain normal life functions like heart rate, breathing, and brain function.
Knowing the calories required for such vital functions makes menu planning (for proper nutrition) and fitness planning (for weight loss) easier, says Shane Diet Resorts fitness trainer, Jackie Poplaski.
"The testing helps SDR staff and guests themselves to understand their metabolism," says Poplaski. "Someone with a lower metabolism needs to lower their caloric intake and raise their physical activity in order to burn calories and lose weight."
The test, which is offered to guests for a nominal extra fee, underscores the fact that 60-75% of total energy used during any day is given over to life functions, leaving an additional 25-40% which may be influenced by movement and diet choices.
Poplaski says, "Metabolic testing is another tool we can use to help guests understand their bodies and aid them in creating eating and activity choices that will support their efforts to lose weight and begin living a healthier lifestyle."
Shane Diet Resorts offers summer sessions, ranging from 2-12 weeks, at Honor's Haven Resort & Spa in the Catskill Mountains. Adults 18 years and over enjoy comfortable accommodations, a full calorie-restricted gourmet meal plan, a full range of classes and activities, a customized fitness plan, nutritional and behavioral counseling, and ongoing support in their efforts to lose weight and create a healthier life.
For more information on Shane Diet Resorts, visit http://www.shanedietresorts.com, call 888-731-9034 or email at office(at)shanedietresorts(dot)com.
###