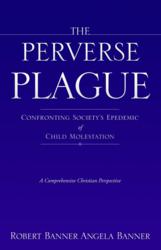 The Perverse Plague offers a lasting solution toward curbing our societal plague of child sexual offending.
Longwood, FL (PRWEB) June 20, 2011
It is apparent that today's society is obsessed and terrified by what appears to be an out-of-control epidemic of child molestation. The Perverse Plague – Confronting Society's Epidemic of Child Molestation ($24.99, paperback, 9781613790137), a new Xulon Press title from Robert and Angela Banner, invites readers to delve beyond the overly simplistic, politically-correct dialogue of the sexual offender to find answers to end the hysteria. The co-authors invite all audiences to discover the whole truth behind child molestation through the support of a Christian worldview and well-documented psychological truths. They respond to the mystery of why authentic Christian people who are accustomed to making responsible moral decisions can radically shift into embracing deviant sexual behaviors and what can be done to restore them to sustained sexual sobriety. Ultimately, this must-read book offers a lasting solution toward curbing our societal plague of child sexual offending.
"Our book thoroughly and dramatically provides readers with a fresh insight into the scope of child molesters' underlying conflicts, the source of compelling deviant impulses and behaviors, and how they can be effectively addressed," the co-authors say. "The result is restored hope and calming assurance that there is indeed a way of escape from even this most deplorable of human evils."
According to the Banners, any dramatic contradiction to a Christian's customary character can be a powerful motivator causing them to seek a reason behind those episodes of severe moral failure. The husband and wife team, a master's degree-holding Christian post-offender and a clinical Christian therapist, respectively, share histories of their own sexual victimization as children and the passion for resolving the repetitive cycle of child sexual abuse.
Xulon Press, a division of Salem Communications, is the world's largest Christian publisher, with more than 8,000 titles published to date. The Perverse Plague is available online through xulonpress.com/bookstore, amazon.com and barnesandnoble.com.
###