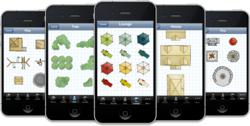 "Home begins when you set foot on your property," said Messervy. "By teaching homeowners and professionals about landscape design in my books, blog, app and design services, I'm empowering them to create spaces they love and go outdoors to enjoy them."
Saxtons River, VT (PRWEB) June 02, 2011
Today Julie Moir Messervy Design Studio (JMMDS) announced it is going digital by offering two online tools that make the landscape design process approachable and attainable for everyone. The first, the Home Outside Design (HOD) iPhone app, enables homeowners to "place the pieces" of their front and back yard landscapes; the other, a new online design service called Home Outside Design, gives cost-conscious clients with small properties design help from the experienced and creative professionals at JMMDS.
Both tools are based on Messervy's book Home Outside: Creating the Landscape You Love (The Taunton Press), which has been changing the way Americans think about home landscapes since its release in 2009. This award-winning book is geared towards helping every homeowner jump-start a process for extending the presence of home out into the landscape by transforming a lackluster property into a beautiful and personal "home outside."
"More people are realizing that home begins when you set foot on your property, not just when you enter your front door," said Messervy. "By teaching homeowners and professionals about landscape design in my books, blog, app and design services, I'm empowering them to create the spaces they love and go outdoors to enjoy them."
New Home Outside Design iPhone App Makes Landscape Design Fun and Easy; $2.99 at the iTunes App Store
Messervy's Home Outside Design (HOD) app, created in collaboration with software design studio All Dreams Digital, is different from all other garden apps. It enables homeowners to select from more than 280 beautifully hand-drawn landscape elements and move them around on a virtual property. Users can "mock up" their own site, including locating their house and existing landscape features, and then add in a new shed, patio, deck, paths, planting beds, and landscape features such as pools, stones, and play structures.
The app also highlights "green" features such as clotheslines, vegetable gardens, solar panels, a green roof, and a compost bin. Homeowners can even e-mail their designs to friends or to the Home Outside Design (HOD) app Web site, where they might appear in an online slideshow of inspiring Home Outside Design creations. Besides being an excellent design tool, the Home Outside Design (HOD) app is fun, offering everyone an opportunity for creative play.
New Online Design Service Brings Landscape Design Home
Not everyone feels comfortable designing their own backyard, so Messervy and her team created the trademarked Home Outside Design service to help. Specially tailored to meet the needs of small-scale residential properties, Home Outside Design allows homeowners—no matter where they live—to access the award-winning design services of JMMDS in an interactive and cost-effective way.
How Home Outside Design Works: You measure. We design. You enjoy.
To begin the Home Outside Design process, JMMDS sends homeowners a Home Outside Design kit, complete with a Home Outside DVD, measuring tape, pencils and a workbook that walks them through the steps for measuring their property. The workbook includes questionnaires that help homeowners determine their "designer" personality and aesthetic preferences and uncover their significant landscape and nature experiences.
The result: two design plans drawn as bird's eye views that map the flow and major landscape features of the property, including planting beds, walkways, seating areas, and special features. Once a preferred design is chosen, the homeowners can continue partnering with JMMDS to create the finished landscape, work with a local landscape designer or contractor to develop the property, or execute the design on their own.
Home Outside Design plans start at $500 for a front or backyard design of 5,000 square feet. To begin the Home Outside Design process, visit http://www.jmmds.com/create/home-outside-design. Information on full-service designs for residential or institutional properties is also available at http://www.jmmds.com.
About Julie Moir Messervy
With three decades of experience, numerous high-profile lectures and six books, including the award-winning Home Outside: Creating the Landscape You Love (The Taunton Press, 2009), Messervy has emerged as a leader of a movement in which landscape design is as much a personal journey as it is about leaving a unique imprint upon the earth. Her latest book, The Toronto Music Garden: Inspired by Bach, was released in November 2009. Messervy is the principal of Julie Moir Messervy Design Studio (JMMDS) in Saxtons River, Vermont. More at http://www.jmmds.com and http://www.jmmds.com/inspire/blog.
# # #