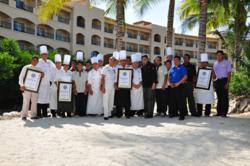 The Riviera Maya eco-friendly resort received these five accreditations for its restaurants Hacienda Grill, El Alebrije, Casa Las Islas, Agave Tequila, and Sabor Mexico.
Riviera Maya, Q. Roo, Mexico (PRWEB) June 02, 2011
Sunset World Resorts and Vacation Experiences was recognized for its commitment to high quality service by receiving five Distinctive H accreditations for its restaurants at the group's eco-friendly Riviera Maya resort, Hacienda Tres Rios.
The Director of Operations for Sunset World Resorts and Vacation Experiences German Fayad was responsible for handing over the certificates to the management of the restaurants: Casa las Islas, Hacienda Grill, El Alebrije, Agave Tequila Bar in El Alebrije, and the staff restaurant Sabor Mexico. The accreditation is awarded based on the highest standards of quality of the Hygienic Management Program for Food and Drinks.
The ceremony to deliver the certification was hosted by the Ministry of Tourism and the Ministry of Health for restaurants that meet Mexican Standard NMX-F605 NORMEX 2004. Fayad thanked his staff members for their efforts and achievement of this recognition which ensures proper management practices and good hygiene.
The manager urged them to maintain their efforts and continue to improve to benefit the resort and the Riviera Maya as a world class tourist destination.
###