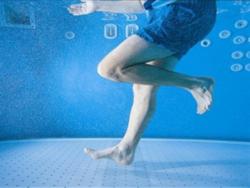 Middletown, Pennsylvania (PRWEB) June 03, 2011
Minnesota Twins Catcher Joe Mauer's 2009 AL MVP standing solidified his status as one of MLB's leaders. However, recent bilateral weakness in his legs has kept him out of games.
Aquatic therapy has been instrumental in Mauer's rehabilitation. To recover, Mauer has been rehabbing on HydroWorx underwater treadmills with therapy jets at the Twins' facility as well as his family home.
The HydroWorx underwater treadmill supplements land-based training and physical therapy protocols; thus, athletes can exercise or rehab for longer periods than on land alone. Teams such as the Twins, Phillies, Rays and Indians all have HydroWorx pools for aquatic fitness.
Anson Flake, president, HydroWorx, explains the advantages of water-based training and therapy. "On a HydroWorx underwater treadmill, athletes are significantly 'lighter' than they are on land. Essentially, body weight is reduced by 80-90%, equating to minimized body stress. That's why teams like the Twins turn to aquatic therapy to get players like Joe Mauer back as soon as possible."
No date has been set for Mauer's predicted return, though his progress is being touted as promising.
About HydroWorx
HydroWorx, based in Middletown, Pennsylvania, offers a wide range of underwater treadmill pools, underwater treadmills, and peripheral products and services. Every day, over 15,000 athletes and patients use HydroWorx technology to recover from injuries and health conditions.
More information about HydroWorx can be found at http://www.HydroWorx.com.
# # #