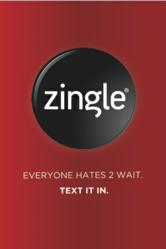 "Zingle encourages repeat customers and they tend to order more frequently."
Del Mar, CA (PRWEB) June 03, 2011
Ford Blakely, founder of Zingle, was tired of waiting in long lines every morning at his local coffee shop for his "single shot, soy mocha, 2 pumps, no whip." Knowing he wasn't the only frustrated coffee drinker waiting in line for the same order every morning, Ford created Zingle, a stand-alone text ordering solution. Thanks to Ford and Zingle, coffee drinkers everywhere are texting it in and saving valuable time. All across the country from Hawaii to California to Washington to Connecticut to Alabama and in Canada, coffee drinkers are text ordering.
The partnership between Zingle and SelbySoft provides the most convenient and most direct order method for coffee shops. Customers already know how to text and they know how they like their coffee. There are no time consuming account registrations or sign ups, no complicated menu coding systems and no fees for the customer to use Zingle. Millions of coffee drinkers are already walking around with text ordering devices in their pockets and purses: cell phones.
Coffee shop operators also love Zingle text ordering because it is simple and easy to use. Tiffany, manager of Bruegger's Bagels commented, "I love Zingle because it's fast, efficient and we don't have to write down the order." Text ordering also improves customer loyalty and increases customer frequency. Bagels & Brew owner Michelle stated, "Zingle encourages repeat customers and they tend to order more frequently." Fred, owner of Neighborhood Grinds said, "Since we launched Zingle text ordering, we've been getting great reviews from our customers and our business has already grown from it."
SelbySoft is a software development company focused on developing high quality POS software for the coffee industry. Since moving into the food and beverage industry in 1994, the company has grown along with the Coffee & Tea industry. SelbySoft supports thousands of locations worldwide ranging from independent "mom & pops" to larger franchise and corporate based clients.
Zingle, based in Del Mar, CA, changes the way customers communicate with their favorite businesses by making it as simple as sending a text. Zingle's text ordering solutions provide the fastest and easiest way for customers to text in their orders. Zingle currently operates throughout the US, Canada and Puerto Rico and provides its texting platforms to restaurants, coffee shops, golf courses and other service-based businesses. Zingle is for customers who hate 2 wait and businesses who hate 2 keep them waiting.
# # #