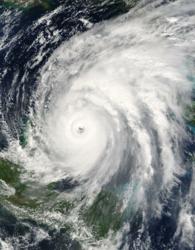 Buford, GA (PRWEB) June 03, 2011
June 1st marks the opening day of 2011 hurricane season. This year, weather forecasters are having a tougher time predicting the intensity of hurricanes without the reliable forces of El Nino and La Nina, reports Today Weather. However, Fox News reported the nation's top meteorologists issued their 2011 hurricane season forecast Thursday, predicting a serious and above-average season. With so much uncertainty about 2011's recurring natural disasters, VoiceNation advices businesses located in hurricane and tropical storm-prone areas to adopt a disaster recovery plan in preparation.
El Nino and La Nina (ENSO) are warming and cooling trends in the ocean that can either intensify or suppress hurricanes. This year, ENSO are expected to be neutral, complicating predictions, but directing us towards a more active and aggressive season. The National Weather Service informs that during April 2011, La Nina continued to weaken as indicated by increasing surface and subsurface temperature anomalies across the equatorial Pacific Ocean. Current observed trends, along with forecasts from nearly all of the ENSO models indicate La Nina will continue to weaken in the coming months, with a return to ENSO-neutral during May-June-July 2011.
According to Today Weather, the last time temperatures were neutral, was in 2005, when hurricanes Katrina and Rita hammered the Gulf Cost with lethal results.
The NOAA predicts a busier than normal season for the Atlantic, with as many as 18 named tropical storms and 6-10 of them being major hurricanes. "It looks like we're going to have more impact on the mainland of the U.S. coming up this year compared to last year. We had a lot of storms last year, but not a lot of impact on the U.S.," states Paul Pastelok, Meteorologist and Hurricane Forecaster.
If you live in a location where hurricanes frequently cause havoc, you typically know how to prepare, although in some cases, you do not have enough time. Here are a few simple tips to help refresh your mind and help new residents prepare for the 2011 season:

Install hurricane shutters or have supplies ready to board-up your home and business.
Have cash on hand. Banks and electronic payment devices located in grocers with generators will most likely be out of service for several days in the event of significant damage.
Keep your tank full. The local news and weather stations will track an approaching hurricane 24/7. When the word gets out, local gas stations experience tremendous lines and wait times. Often times the line to fill up your tank can be a quarter mile long, resulting in an empty supply.
-Have flash lights and candles ready.
-Establish a disaster recovery plan for your business. VoiceNation offers 24/7 live answering service to help you keep your employees in contact with managers and your customers well informed. Your phone lines can remain open not only during the event of a storm, but also through aftermath recovery.
After experiencing Hurricane Katrina when it first made landfall in South Florida as a Category 1 hurricane in August 2005, and having the opportunity to stand in the eye of Hurricane Wilma (Category 3) as it crossed South Florida in September 2005, I have witnessed the importance of a disaster recovery plan. Businesses in Fort Lauderdale, Florida and other surrounding cities were without power for 4 days and without cable and internet services for 2-3 weeks after Wilma surged through the state. Staying connected and operational through a state of destruction is essential for companies to keep profits up. A live answering service will provide you with a live, professionally trained operator who will handle your calls according to your call script in the event your telephone lines and cellular towers go out.
According to Today, Meteorologists say La Nina also contributed to this past winter's barrage of blizzards in the northern United Sates, heavy summer flooding in Australia and recent tornadoes in the Southeastern U.S. However, those events are no indication of what hurricane season might be like. This is all the more reason to be prepared in advance. The national weather agency urged caution and preparedness for anyone who lives within the hurricane evacuation zone.
About VoiceNation:
VoiceNation, America's leader in virtual PBX and voicemail was founded in 2002 by President Jay Reeder and opened their Next Generation call centers in 2009. The company has grown to serve more than 40,000 customers including FEMA, Blue Cross/Blue Shield, Dell, AIG and the U.S. Coast Guard. They leverage the very latest in proprietary technology solutions in order to deliver quality call answering services at the lowest cost to their customers. To learn more about VoiceNation and their services, please visit http://www.qualityansweringservice.com.
For more information, contact:
Graham C. Taylor
Media Relations
1.866.766.5050, ext. 150
###