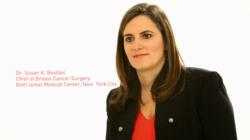 Educating the world about breast cancer through this amazing video production is of the highest importance.
Stamford, CT (PRWEB) June 02, 2011
M Squared Entertainment, a media and production company, today announced the release of the first webisode in its five part series on breast cancer, "Dispelling the Myths". Produced for Beth Israel Medical Center in New York, the series features Beth Israel's Chief of Breast Cancer Surgery, Dr. Susan K. Boolbol, as she talks about the myths and realities surrounding breast cancer, diagnosis, and treatments. The debut webisode, "An Educated Partner", will launch on the series' breast cancer research dedicated YouTube channel and will also be prominently featured on M Squared's breast cancer information and news portal, http://www.BreastCancerDiscovery.com, which is simultaneously going live with the YouTube Channel.
"We are absolutely thrilled to have partnered with Beth Israel Medical Center on this important project," said M Squared's CEO Tom Molen. "It is both and honor and a privilege to have helped develop this breast cancer series with Dr. Boolbol and Beth Israel Medical Center. We think we have eloquently captured her passion for her profession and her compassion for her patients during the filming of the series. We hope this production becomes an important resource for women in need of breast cancer research and education for years to come."
Said Dr. Boolbol, "Educating the world about breast cancer through this amazing video production is of the highest importance. Beth Israel Medical Center, part of the Continuum Health Partners hospital network, is one of the leaders in breast cancer research and this video demonstrates that. I don't think we could have found a better partner than M Squared to help us create and produce what I think will be an extremely compelling and educational series. Their shared passion and vision for the project shines through on every frame of the series."
M Squared will release a new webisode every 7 to 10 days over the course of the summer, and plans to continually update the channel with breast cancer patients' stories and additional micro episodes featuring Dr. Boolbol that address current issues surrounding breast cancer discovery, treatments, and post-patient care. On BreastCancerDiscovery.com, M Squared and Dr. Boolbol will curate news, video, and blogs on breast cancer, with the goal of becoming a go-to destination for women looking for information, news and commentary about breast cancer.
M Squared will also help promote the series through a strategic partnership with Internet Media Labs (IML), a New York City based digital technology company. Using IML's proprietary Chirpaloo social media marketing platform, M Squared will be able to connect the series with users on Twitter, Facebook, and other social platforms that are seeking timely information on breast cancer. Robert Moore, CEO of Internet Media Labs stated, "We are looking forward to helping M Squared and Beth Israel connect this amazing content with users that are looking for answers and information on breast cancer. We couldn't be more excited to help them achieve their goals for this project."
About M Squared Entertainment:
M Squared Entertainment creates quality original or adapted content for distribution across all mediums – Internet, television, and theatrical. While primarily focused on producing proprietary content, M Squared works with select clients to help them articulate their vision into new media and assist them in connecting that media with the right audience.
Contact: Tom Molen, tom(at)msquaredentertainment(dot)com
About Beth Israel Medical Center, New York City
The Appel-Venet Comprehensive Breast Service at Beth Israel Medical, located at Union Square in NYC, is an integral part of the Continuum Cancer Centers of New York. The Breast Service combines state-of-the-art diagnosis and treatment of breast cancer with a multidisciplinary focus and a supportive environment. We are dedicated to both achieving a high cure rate and maintaining a high quality of life for our patients.
The Comprehensive Breast Service is also dedicated to addressing patients' emotional as well as physical needs, and offers full support programs including psychiatry, social work, as well as individual and group support. Committed to identifying the causes of breast cancer and finding advanced treatments, our Breast Service strongly encourages participation in clinical research.
Contact: Jeff Jacomowitz, JJacomo(at)chpnet(dot)org
About Internet Media Labs, Inc
Internet Media Labs builds technology platforms that allows content, businesses and brands to make meaningful connections with users. IML leverages intelligent automation, or SmartAgents™, to "decode" the Digital DNA of the Internet, linking and interacting with consumers to create new paradigms of engagement. Their mission is simple but ambitious: To facilitate and ultimize the ability of publishers, businesses, and advertisers to relevantly connect with consumers.
Contact:
Robert N. Moore, Rmoore(at)internetmedialabs(dot)com
###