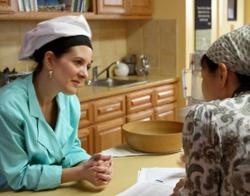 "Building a business takes dedication and direction. We provide the tools students need to become culinary instructors and public speakers who are in demand for a growing audience."
Mendocino Coast, CA (PRWEB) June 02, 2011
The Advanced Raw Culinary Arts Instructor Certification program at Living Light Culinary Institute offers six courses of study, propelling students through a progression of hands-on and classroom experiences geared towards a career teaching gourmet raw vegan food. Included are hands-on culinary classes, knife skills, nutritional science, recipe development, flavor dynamics, and business development in the growing field of gourmet raw cuisine. Additional segments include goal setting and time management, mastering internet marketing, creating professional culinary demos, and personal coaching. Lead instructor Jennifer Cornbleet is the author of several raw recipe books, including the Amazon best seller Raw Food Made Easy for 1 or 2 People.
"Many of our students are motivated to create their own businesses and bring knowledge about the benefits of raw food to their communities," Cornbleet says. "Building a business takes dedication and direction. We provide the tools they need to become culinary instructors and public speakers who are in demand for a growing audience."
An instructor at the school for more than six years, Cornbleet emphasizes that students who want to create professional careers teaching raw foods need more than culinary skills, although those are also important. The six part series includes comprehensive culinary classes covering everything from sprouting, creating a kitchen garden, fermenting foods, making "cultured" nut based cheeses, pates, and sauces, to familiar favorites like lasagna, pizza, and enchiladas, all without heating above 105 Degrees.
"With overweight and degenerative diseases on the rise in most industrialized countries, the raw food diet has become one of the top 10 diets worldwide," she says. "People are eager to improve their health, and yet they want to indulge in their favorite foods. We've always been teachers of teachers, and our new advanced instructor certification is perfect for those who want to create a teaching business."
Since 1998, Living Light Culinary Institute has taught students from more than 45 countries around the world how to make gourmet raw vegan food. With skyrocketing medical costs and a rise in degenerative diseases worldwide, more people want to understand the connection between diet and health. Teaching health supportive cuisine promises to be an important career trajectory now and into the future.
Living Light International has four eco-friendly businesses on the Mendocino coast of Northern California: Living Light Culinary Institute, Living Light Café, Living Light Marketplace, and Living Light Inn. The Living Light Chef Showcase takes place every fourth weekend in August.
# # #