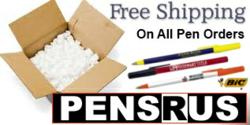 New York, NY (PRWEB) June 02, 2011
PENSRUS, a leading distributor of promotional products including personalized pens and pencils, backpacks, tote bags, sticky notes, mouse pads, and other miscellaneous http://store.pensrus.com/Merchant2/merchant.mvc?Screen=PROD&Product_Code=PRU-ZTG&Category_Code=PAPERMATE&Product_Count=12&?s=prweb [advertising pens __title__ advertising pens], has announced they are expanding their selection of religious promotional products that are perfect for giveaways and marketing efforts.
With a record high number of religious institutions popping up all over the globe, churches, ministries, and other religious institutions may want to begin reconsidering their own marketing plans in order to get the advertising attention it deserves. While advertising can cost up to a fortune, religious institutions such as churches and synagogues can trust that at PENSRUS they will be able to find a cost effective, yet useful promotional item without spending their entire marketing budget.
While there are endless amounts of fun and unique promotional products out there, by far the most popular items- with the highest return on investment- are http://store.pensrus.com/Merchant2/merchant.mvc?Screen=CTGY&Category_Code=RARE-METALS&?s=prweb [business pens __title__ business pens]. Promotional pens can be imprinted or engraved upon and are ideal for church fundraising promotions, youth groups, picnics, and other functions. These custom logo pens make for excellent giveaways especially when placed in pews to fill out visitor's cards or other forms.
"Regardless of one's faith, one is guaranteed to find the perfect giveaway for their religious institution by implementing advertising pens into their marketing plan", states PENSRUS CEO Henry Morgan. "Whether you need Sunday school giveaways or treats for Temple, these imprinted pens are a great promotional giveaway for fundraising, awareness and events."
A popular advertising pen that is employed by religious institutions nationwide is the http://store.pensrus.com/Merchant2/merchant.mvc?Screen=PROD&Product_Code=PRU-CS&Category_Code=BIC&?s=prweb [Bic Clic Stic Pen __title__ Bic Clic Stic Pen]. Customizable in a wide array of colors with many different imprinting options available for one's logo, message, and information, the Bic Clic Stic is sure to make one's institution stand out and be seen by many. As with all business pens, there is no setup fee, no logo fee, and free ground shipping.
Rejoice in whatever creed it is that helps you make the most of your life and use these http://store.pensrus.com/Merchant2/merchant.mvc?Screen=CTGY&Category_Code=BIC&?s=prweb [custom logo pens __title__ custom logo pens] for religious giveaways to spread your religion to others.
For more information on affordable personalized religious giveaways as well as other promotional products, please visit PENSRUS.com.
About PENSRUS
PENSRUS is a mainstay in the distribution of promotional products worldwide. PENSRUS prides itself on providing only the highest quality promotional pens, pencils, and other marketing tools. On the web since 2001, with other 50+ years of experience, PENSRUS holds customer service to the highest degree and has excellent customer ratings on resellerratings.com.
Contact:
PENSRUS
http://www.PENSRUS.com
800 736-7787
###