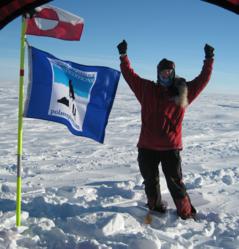 Greenland crossing trek team members skied on average 28km per day before pitching their tents for some respite from Greenland's bitter cold and strong winds
(PRWEB) June 03, 2011
This May, Polar Explorers concluded a fast crossing of the Greenland ice cap with multinational team of amateur explorers. Keith Heger of Polar Explorers, an adventure travel company that specializes in North and South Pole treks as well as Greenland crossing treks, guided a team of five cross country skiiers, an Indian father-daughter team, a Belgian married couple and a South African, along with two Greenlandic dog mushers on the 19 day, 530 kilometer adventure which began in Kangerlussuaq on the west coast and concluded in Isertoq on the east coast.
During the Greenland crossing trek team members skied on average 28km per day before pitching their tents for some respite from Greenland's bitter cold and strong winds. Each day team members took turns skiing in front to break trail for the rest of the group. The Greenlandic mushers drove a dogsled containing the group's food and gear in the paved ski tracks just behind the rest of the group. Several times during the trip the team encountered whiteout conditions when an overcast sky and strong winds conspired to conceal the horizon and rob skiers of their equilibrium and depth perception. At these times the team took extra precaution to keep the group as a tight unit so that the leader never lost visual contact with the dogsled.
Whenever Heger, an adventure travel veteran with months of guiding experience on North Pole, South Pole and Greenland crossing treks, called the Polar Explorers headquarters to report the team's position and give blog updates, he continually remarked that he was very impressed at the team's high spirits and cohesion during every stage of the trek. The team regularly sang Beatles songs together as they skied across the Greenland icecap, and celebrated Heger's birthday by huddling together in a large tent to share a batch of a polar adventure travel favorite, cheesy bagels with sausage fried in butter.
The Greenland crossing trek is a highly regarded adventure travel feat, and one that harkens back to Fridtjof Nansen's first crossing in the late 1800s, a golden age of polar exploration. "While the Greenland crossing may not be as obvious an adventure as the North or South Pole, it is just as rewarding, and, in my opinion, as important," says Rick Sweitzer, the Polar Explorers managing director. "As one of our team members on this 2011 crossing realized, you haven't tasted every bit of polar travel until you've the two poles and then experienced Greenland."
2012 Greenland Crossing dates:
May 14-June 8, 2012
More information and a detailed itinerary is located at
http://polarexplorers.com/expeditions/greenland-dogsled.shtml
For additional information, testimonials, photos and interview opportunities, please contact:
Polar Explorers
1130 Greenleaf Avenue
Wilmette, IL 60091 USA
http://nwpassage.com
http://polarexplorers.com
1.800.RECREATE (732.7328) in the USA and Canada
+001.847.256.4409 (worldwide)
Fax: +001.256.4476
Twitter: twitter.com/nwpassage.com
Facebook: http://facebook.com/pages/Wilmette-IL/The-Northwest-Passage/103368205768
Blogspot: http://northwestpassage.blogspot.com/
Press information: pressinfo(at)nwpassage(dot)com
The Northwest Passage/Polar Explorers Ranks Among the Top 20 "Best Outfitters on Earth" by National Geographic Adventure Magazine. Founded in 1984, The Northwest Passage Passage and its sister company Polar Explorers provides award-winning adventures around the world.
###