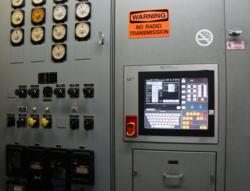 As power generation equipment such as gas and steam turbines' control technology systems age, the customer unit's capability, performance and effectiveness inevitably suffers.
Orlando, FL (PRWEB) June 02, 2011
Global Controls LLC, a power engineering technology development firm providing modernization and retrofit services for gas turbine equipment, is reporting an increase in concern by power plant owners and managers who are making a dedicated effort to maintain their facilities in optimal operating condition beyond their operational lifetime.
Demand for modernization services in the energy sector has been growing in demand as power plant technology across the globe continues to age—especially gas turbines designed and built over two decades ago that are pushing the limits of their control system's technical lifetime.
As turbine owners try to extend the operational lifetime of this capital equipment, companies such as Global Controls have stepped up to the challenge of keeping the equipment running with alternatives to the costly parts and service offered by their original manufacturers.
Reacting to this challenge, Global Controls 'GCI' Interface product line was developed as an OEM alternative replacement to modernize the current GE 'I', 'G' & 'HMI'™ operator interfaces for MkIV* & MkV GE Speedtronic™ turbine control panel systems.
Currently, there are thousands of power plants worldwide operating a variety of gas turbines that depend on the effective monitoring of equipment dynamics using a human-machine interface—also known as an HMI—to track a number of analytical data.
Major gas turbine manufacturers such as General Electric offer solutions, parts and service contracts to power generation facilities, but these are often costly and require long term contracts that tie turbine operators to unreasonable terms.
A major challenge for power plant managers—whose main responsibilities are managing turbines within safety limits while maintaining efficiency and performance levels—is that aging equipment such as old CRT monitors and software are creating weak points in their operational performance.
Global Control's 'GCI' integrates GE Intelligent Platform's Cimplicity 8 software—a modernized 'HMI' operator graphical interface with additional features to exceed the capabilities of this critical element of the HMI.
"As power generation equipment such as gas and steam turbines' control technology systems age the customer unit's capability, performance and effectiveness inevitably suffers," said Ron Walker, President of Global Controls LLC. "Our company solves many of these problems by proactively upgrading or retrofitting HMI components with OEM-alternatives that often exceed original manufacturer standards".
Walker, who is a former GE engineer specializing in turbine control systems, started Global Controls in 1998 to meet demand from power plant managers and turbine users seeking a viable OEM alternative for upgrading and servicing their aging power plants.
Global Controls, which is located in Orlando, Florida, often responds to outages or equipment failure around the world when power plant managers have not been able to take proactive action.
ABOUT GLOBAL CONTROLS
Global Controls LLC is an engineering technology development company with expertise in turbine control systems, excitation and rotating equipment controls for the Power Generation industry. The company is based in Orlando, Florida, and provides highly skilled on-site support engineers and products for turbine control system operations, startups, and upgrades modifications. Global Controls has over 20 years of experience in the modification, upgrading and retrofit of turbines manufactured by GE, Hitachi, Siemens, Westinghouse, Woodgroup, ABB, and Solar Turbines.
For more information about Global Controls, please visit http://www.Global-Controls.com.
MEDIA CONTACT:
Dan Myers
Global Controls, LLC
Phone: 407.812.1313
Email: dan.myers(at)global-controls(dot)com
###