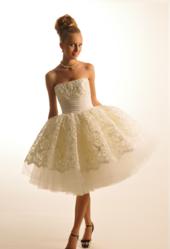 (PRWEB) June 04, 2011
Diamond Bridal Gallery is offering customers the chance to have the latest selection in European bridal gowns and evening wear delivered right to their doorstep. With Diamond Bridal Gallery's new online store, the one-of-a-kind, exclusive selections in gowns that they offer can be yours for the choosing. Browse the extensive amount of bridal dresses and evening wear, all from the comfort of your computer. Don't be limited to local choices; instead, choose the resource that has no other competitor in the area! With gowns in their inventory that aren't sold by anyone else, Diamond Bridal Gallery is the one-stop-shop for all things bridal.
Currently, Diamond Bridal Gallery holds the title of Sacramento's only store to feature the bridal gowns of designers like Rosa Clara, Aire Barcelona, Oksana Couture, and more. Diamond Bridal Gallery's Aire Barcelona dresses come straight from Barcelona, Spain, with the newest fashion in floor length, heart shaped top wedding gowns. Rosa Clara and Two by Rosa Clara are simple and luxurious. Browse through the only store that features Oksana Couture when you visit Diamond Bridal Gallery's online store, with truly magnificent, one-of-a-kind gowns by the couture label that are only believed when seen. Choose from even more fashionable designers that aren't featured anywhere else but in Diamond Bridal Gallery.
For years, Diamond Bridal Gallery has been making brides and their wedding groups happy. With the new selections they have to offer, they can now claim exclusive titles to being of the most renowned, and one of the most accessible, bridal stores in the country. Visit Diamond Bridal Gallery's online store today to view the exclusive selection of bridal dresses and gowns that aren't available anywhere else in the United States.
###