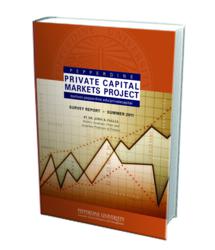 "Increasing availability to all sources of capital, especially bank loans, will give businesses the resources they need to hire more employees and expand their operations – both of which will improve our economy."
Los Angeles, Calif. (PRWEB) June 06, 2011
According to the results from the recent Pepperdine Private Capital Markets Project (PPCMP), business owner confidence has increased 53% from Spring 2010 to Spring 2011. Similarly, business owners' outlook on growth opportunities has increased 20% over the past year.
While business owners are enthusiastic about growing, many of them lack the financial resources to do so. Nearly 95% of the 1,221 privately-held businesses that responded to the survey report having the enthusiasm to execute growth strategies, yet just 53% said that they have the necessary financial resources to successfully execute their expansion plans.
Approximately 54% of those businesses attempting to raise capital in the last six months were unsuccessful and of those that were successful, approximately 59% of them secured bank loans followed by 20% who secured financing from friends and family. Just 13% of privately-held businesses that responded to the survey reported securing funding from Angel Investors, Venture Capitalists and Private Equity combined.
"Businesses need capital to grow and build value, but unfortunately the supply is not meeting the demand," said Dr. John Paglia, lead researcher of the Pepperdine Private Capital Markets Project and associate professor of finance at Pepperdine University's Graziadio School of Business and Management. "Increasing availability to all sources of capital, especially bank loans, will give businesses the resources they need to hire more employees and expand their operations – both of which will improve our economy."
Findings from Summer 2011 PPCMP report revealed that access to capital is very competitive: banks denied approximately 60% of loan applications over the last six months; Angel Investors funded just one business plan of 25 reviewed; Venture Capitalists funded just one business plan of 80 reviewed; and Private Equity funds invested in just one business plan out of approximately 150 reviewed.
Other key findings:

When asked about the importance of information when evaluating loan applications 77.1% of banks that responded to the survey indicated that the quality of cash flows as very important. 60% of respondents indicated historical operating performance as very important when determining loan applications.
The majority of respondents to the Investment Bankers survey are optimistic about deal flow with over 85% of respondents saying that they thought deal flow would increase over the next 12 months. They also expect a further tightening of due diligence efforts by banks (31.7%) in the face of improving conditions.
Over 48% of Angel Investor respondents said that they expect the quality of companies seeking investment over the next 12 months to increase and nearly 70% said that they expect the demand for business investment to increase over the next 12 months.
With over 99% of companies being privately-held, our economy is dependent upon the success of these businesses. The Pepperdine Private Capital Markets Project is a critical step along the path of understanding and increasing the value of private companies and our economy. Professionals who work in the lending or investment arenas either for an institution or a specific fund are excellent bellwethers of what is ahead for other businesses and consumers. Through two survey cycles and published summary reports per year, lenders, investors and the businesses that depend on them will be able to make optimal investment and financing decisions, and better determine where the opportunities to create lasting economic value may be realized.
The study is available at: http://bschool.pepperdine.edu/privatecapital.
About the Graziadio School of Business and Management
Founded on the core values of integrity, stewardship, courage, and compassion, Pepperdine University's Graziadio (GRAT-ZEE-ah-DEE-oh) School of Business and Management has been developing values-centered leaders and advancing responsible business practice since 1969. Student-focused, experience-driven, and globally-oriented, the Graziadio School offers fully accredited MBA, Masters of Science, and bachelor's completion business programs. More information can be found at bschool.pepperdine.edu/newsroom/.
# # #