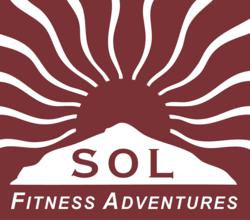 "Melanie and I share a common goal: to ensure that adventure travelers have the best possible experience and memories to share," says Marcus Shapiro.
Utah (PRWEB) June 03, 2011
Take your fitness to the next level with the latest in home training programs and exclusive outdoor fitness vacations to Utah, "The State of Sport." Both named to Outside Magazine's 2011 Travel Hot List, two seasoned fitness experts have teamed up to provide the tools and training grounds to make this your most fit summer yet. Marcus Shapiro of Fit for Trips and Melanie Webb of Sol Fitness Adventures combine the latest technology with the best outdoor locations to provide travelers with exciting adventure travel options.
Guests of Sol's summer trips will receive a complimentary online training program designed by Fit for Trips. Webb, a one-on-one fitness specialist whose clients include a veteran motocross rider and a novice outdoors woman training to hike Mt. Kilimanjaro, hosts fitness vacations at two locations in Utah. Redrock Backpacker: Zion Outskirts treks thrill-seeking explorers through a remote slot canyon, while Alpine Fitness Retreat at Sundance Resort combines the luxury of resort accommodations with outdoor hikes and bike rides.
Both of Webb's Utah excursions require a moderate level of physical conditioning. To help guests prepare, Webb provided Shapiro with the fitness requirements and specific exercises she knows will help travelers meet the physical demands of Sol's trips. Shapiro designed pre-departure strength and endurance training programs that can be downloaded to iPods and performed anywhere. The 4-week workouts include instructional video, pictures, and written instructions.
Shapiro says of the partnership:
"Melanie and I share a common goal: to ensure that adventure travelers have the best possible experience and memories to share. Melanie is a brilliant fitness coach and adventure guide. Fit for Trips' objective is to get travelers prepared for any Sol Fitness Adventure experience. Our online fitness programs are completely customized to the activities in each Sol itinerary. And they are accessible from any computer, anywhere. During the pre-departure training phase each Sol traveler will get the support needed via virtual meetings, phone, and email."
"Marcus and I see how our specialties compliment one another. Marcus has developed state-of-the-art technology that enables a person to receive professional guidance while training on their own time. Sol's fitness vacations to Utah require a certain level of conditioning from travelers. This partnership with Fit for Trips allows me to provide remote clients with the same level of professionalism and care that I am able to give to private training clients," says Webb.
Opportunities are limited. To sign up, contact Sol Fitness Adventures' Melanie Webb at info(at)soladventure(dot)com and Fit for Trips' Marcus Shapiro at marcus(at)fitfortrips(dot)com.
Outside Magazine's 2011 Travel Hot List featured Webb and Shapiro for their innovative approaches to training travelers for their adventures. The two fitness professionals met while attending the Adventure Travel Trade Association Summit in Aviemore, Scotland in September 2010. Based in Atlanta, Georgia, Shapiro has trained clients for 17 years and established Fit for Trips in 2009. Webb, based in Utah, has trained since 2000 and founded Sol Fitness Adventures in 2007.
###