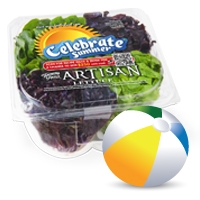 Great lettuce and an American product!
Salinas, CA (PRWEB) June 07, 2011
Just in time for summer fun, Tanimura & Antle has rolled out its Artisan Lettuce "Celebrate Summer" promotion offering shoppers seasonal recipes and entertaining tips through a QR code on the product's packaging and on its newly revamped website artisanlettuce.com. Also included in both online components of "Celebrate Summer" is a weekly giveaway of (13) $250 gift cards through July 31st. Offering a variety of Red and Green Gem, Tango and Oak lettuces in each clamshell, Artisan Lettuce gives consumers a superior choice over bagged salads and other processed blends. The petite, fully mature heads of lettuce are grown on USA family farms and harvested at the peak of freshness for unmatched quality and flavor.
Knowing many of today's consumers are looking for quick and healthy meal solutions—and are using their smart phones to make in-store decisions—artisanlettuce.com and the QR codes are timely and helpful resources. Developed with summertime BBQs, picnics, ballgames, beach days and family events in mind, the recipes include: Family Picnic Salad, On the Beach Wrap, Backyard BBQ Wedge and Taste of the Islands Salad. These great tips cover hosting at home, on the go and in evening entertaining.
New to the Celebrate Summer promotion is a prep video that was shot in the Tanimura & Antle kitchen to show busy consumers just how quick and easy Artisan Lettuce salads can be. Check it out here: http://www.taproduce.com/consumer/index.php.
QR codes, artisanlettuce.com, promotional sweepstakes and Facebook support have all proven to be successful ways to encourage shoppers to try Tanimura & Antle's Artisan Lettuce. Here's what consumer's are saying about this unique variety:
"This is without a doubt the best lettuce ever (other than picking it directly from your garden, perhaps). I have always been unhappy with the quality of the lettuce in the supermarkets, so I am quite excited about not having to open another container of "bad" lettuce anymore!!" –Rose G.
"Great lettuce and an American product!! We love your product!!" –Colleen R.C.
"What a delight—these beautiful orbs of fancy lettuce! Wonderful flavor, and the packaging is perfect for keeping them fresh." –Annette P.
To see what else people are saying about this new Artisan Lettuce line and learn more about all the premium farm fresh produce of Tanimura & Antle, visit them on Facebook today and "fan" them. They love to hear directly from their valued consumers.
About Tanimura & Antle
Tanimura & Antle is an industry leader whose commitment to premium quality produce has remained strong since its formation in 1982. The Tanimura & Antle families combine more than 50 years of experience and knowledge to establish a produce company unrivaled in its quality products, innovation and dedication to growers, customers, consumers and employees. Today, as one of the largest independent lettuce growers in the United States, Tanimura & Antle farms more than 30,000 acres of rich, fertile farmland and ships a full line of premium fresh produce products throughout North America, Europe and Asia. For more information, please visit http://www.taproduce.com.
###