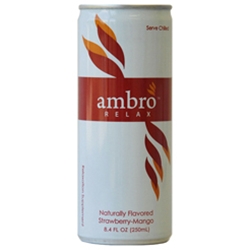 "It is easier to sell because it appeals to many demographics, it has good packaging, and the taste is great. We are seeing regular customers buy more and more as the weeks go on,"
Dallas, TX (PRWEB) June 08, 2011
Ambrosia Beverage Group, a Dallas based company, announced a distribution agreement with L&F Distributors to bring Ambro™ Relax into more parts of Texas and the new market of New Mexico. The agreement gives Ambro™ Relax access to 1500 convenience stores, grocery outlets, and other retail locations in Texas and New Mexico. Ambro™ Relax is a lightly carbonated relaxation supplement drink intended to help people loosen up and relax. Strawberry mango flavored, Ambro™ Relax contains herbal extracts for calming purposes and has only forty calories and ten grams of sugar.
"After success in the Dallas/Fort Worth market, we felt the need to expand into other markets throughout the region. L&F has a fantastic distribution network and is a great match for Ambro™ RELAX," says Ambrosia Beverage Group's Co-Founder, Cavin Kindsvogel. "We are on track to expand our market presence in 2011."
Consumer demand for Ambro™ Relax has become evident in the new markets. In downtown Albuquerque, New Mexico, Jack's Smoke Shop experienced heavy sales upon introducing the relaxation drink last month. "Ambro quickly began selling very well," says Jack's Smoke Shop's Store Manager, Jenna Perez. "It is easier to sell because it appeals to many demographics, it has good packaging, and the taste is great. We are seeing regular customers buy more and more as the weeks go on," says Perez.
In addition to more widespread distribution, Ambro™ Relax has several new plans for the market. The company released a new Flash website in addition to their html site. The website includes an updated shopping cart for online sales and more interactive web pages. Travel, spas, and social media are all focuses on the new site. Ambro™ Relax continues to have a presence on Facebook and Twitter. Ambrosia Beverage Group also plans to launch a targeted marketing effort in the new markets. "We want to educate consumers about Ambro and get samples to the public," says Kindsvogel. "I am confident we can create brand recognition once consumer awareness is achieved."
About Ambrosia Beverage Group
Ambrosia Beverage Group focuses on the supply chain management, marketing, and distribution of functional beverages to store fronts, convenience stores, spa facilities, and other retail and resale outlets. To learn more information about Ambrosia Beverage Group, visit ambrosiabeveragegroup.com.
About L&F Distributors
L & F Distributors is the leading Anheuser-Busch distributor in the lower Texas region and, West Texas and southeastern New Mexico. With the efforts of a wonderful team of market researchers, we definitely meet the demands of the surrounding customers.
###