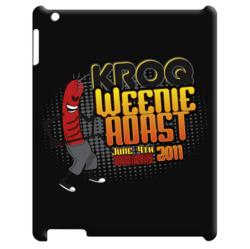 Irvine, CA (PRWEB) June 01, 2011
Incipio, the Orange County, CA based designer and manufacturer of stylish and functional accessories for mobile devices, has teamed up with the World Famous KROQ to produce a series of co-branded cases for the iPad 2, iPhone 4, and the iPod Touch. The cases will feature the 2011 Weenie Roast and KROQ logos on Incipio's award winning feather® case.
"We've got great friends that put us in touch with great organizations like KROQ," said Jason Moore-Brown, Marketing Director at Incipio. "Incipio is home to many a KROQ listener so naturally we were all smiles when we were asked to work with KROQ and be a part of the Weenie Roast."
In addition to creating co-branded cases with KROQ, Incipio will be on hand at this years Weenie Roast Gift Lounge and Suite to rub elbows with the likes of Linkin Park, Bad Religion, Foster the People, Young the Giant, the KROQ staff, and the lucky VIPs that find their way back stage.
STAY IN THE KNOW
Facebook at http://www.facebook.com/incipio
Twitter @myincipio
Website: http://www.myincipio.com
About Incipio: At Incipio we dream big and never settle for the status quo. Our sole focus is to provide customers with accessories that look as good as they function. Headquartered in Irvine, CA, we have people in London, Hong Kong, and India, allowing us to reach our customers and work on projects 24/7. Our dedicated staff does just that. At 140 strong, our team includes some of the most talented industrial and graphic designers, mechanical engineers, customer satisfaction fanatics and software developers around, all led by a world-class management team. Our shared love for mobile devices and accessories fuels our passion to create the best accessories on the planet. In the past 12 years, we have gone from operating out of a suburban garage to being widely recognized as one of the most innovative mobile accessory makers in the world. And we're just getting started.
###